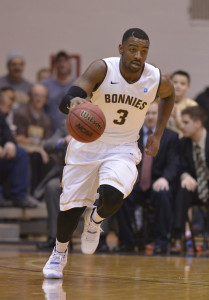 Courtesy of GoBonnies.com
Seven home games are on the non-conference schedule for St. Bonaventure's men's basketball team, which was announced Monday.
"This is a challenging schedule from start to finish," said St. Bonaventure head coach Mark Schmidt. "Even the teams who didn't necessarily have great records last year will be much better this season. I'm excited about the number of home games we'll have because, of course, we love the home court advantage we have in the Reilly Center. We've got some young guys we'll need to work into the lineup, and home games always help with that transition. I expect that our fans will point to the Syracuse game as a highlight, but this entire schedule was set up to prepare us for the Atlantic 10."
St. Bonaventure will host seven non-conference games in front of its faithful fans, where the Bonnies were 9-6 last season. The season opener will be Friday, Nov. 13 at the Reilly Center against Binghamton. The Bonnies and Bearcats met last December in Binghamton and St. Bonaventure prevailed 69-51. The Bonnies will also host Loyola (Nov. 21), Hofstra (Nov. 28), Ohio (Dec. 5), Vermont (Dec. 8), South Carolina State (Dec. 19) and Niagara (Dec. 30). Hofstra and Vermont both reached the postseason last year and actually squared off in the CBI.
After the opener, the Bonnies will head north and west for a highly-anticipated renewal of the rivalry with the Syracuse Orange on Tuesday, Nov. 17 at the Carrier Dome. The schools last met on Dec. 19, 2009 in Syracuse with the Orange winning 85-72. The Bonnies and Orange used to be regular opponents but have only played sporadically since the 1980s.
In a Saturday night 7:00 start on Nov. 21, St. Bonaventure will host Loyola (Md.). The Greyhounds finished 11-19 last year, their first under head coach G.G. Smith, who is the son of Texas Tech head coach and former Kentucky coach Tubby Smith. This will be the first meeting between the teams since Dec. 18, 2011.
The Saturday after Thanksgiving, the Bonnies will face an old rival as former Niagara coach Joe Michalich will bring his Hofstra Pride to the Reilly Center. Hofstra is led by guard Juan'ya Green, who followed Michalich from Niagara and earned all-conference honors last season after averaging 17 points and six assists per game. Hofstra and St. Bonaventure, which have not met since 1992, will play again next season in Hempstead, N.Y.
While there will not be a Big 4 Classic doubleheader this season due to scheduling conflicts, the Bonnies will face all of the Big 4 schools as usual. The Bonnies kick off Big 4 play on Nov. 24 at Canisius in the 164th meeting between the schools. Next up is Buffalo on Dec. 2 at Alumni Arena. The Bulls, who won the Mid-American Conference tournament and earned an NCAA Tournament bid last season, will be somewhat of a new-look team this season under rookie head coach Nate Oats.
After the trip to Buffalo, Schmidt's club will then host three straight games at the Reilly Center starting on Saturday, Dec. 5 against Ohio. Last season in Athens, Ohio, Jaylen Adams scored 26 points to lead the Bonnies to an 80-70 win over the Bobcats.
The following week, Vermont visits the Reilly Center on Dec. 8 for the first meeting ever between the programs. A perennial power in the America East Conference, the Catamounts won 20 games last season. Vermont returns its top four scorers, including all-conference players Ethan O'Day, who averaged 13.2 points per game, and Dre Wills (9.3 ppg).
After a break for final exams, the Bonnies host South Carolina State Dec. 19. Like Vermont, this will mark the first meeting between the schools. The Bulldogs will return eight veterans from last year's club.
The non-conference schedule will wrap-up with games against sister school Siena and longstanding rival Niagara. The Bonnies will visit Siena's Times Union Center on Dec. 22 for the annual competition for the Franciscan Cup. Dec. 30, Niagara and St. Bonaventure will meet for the 156th time when they square off in the Reilly Center at 7:00.
The Bonnies return three starters from last year's 18-13 team: all-conference senior guard Marcus Posley, senior forward Dion Wright and sophomore point guard Jaylen Adams. Junior forwardDenzel Gregg, sophomore guard Idris Taqqee and redshirt freshman forward Jordan Tyson also return. The Bonnies will have four newcomers: junior swingman Courtney Stockard, freshman guard Nelson Kaputo, freshman forward LaDarien Griffin and freshman center Derrick Woods.
St. Bonaventure head coach Mark Schmidt, who will enter his ninth season on the Bona sidelines, will take fans' questions via a live Periscope video chat on Tuesday (Aug. 25) from 12:45-1 p.m. ET. Check @Go_Bonnies Twitter for the link to participate.
Season ticket renewals are now underway, and new season ticket sales will start Aug. 29. For information on purchasing season tickets, contact the SBU ticket office at (716) 375-2500 or visit GoBonnies.com/tickets. Season tickets start at just $180. Single game tickets will go on sale Oct. 21.
A quick look at the Bonnies' 2015 non-conference opponents:
| | | | | |
| --- | --- | --- | --- | --- |
| Game Date | Team | 2014-15 Record (Conf.) | Postseason | Last Year Result or Notable |
| Nov. 13 | Binghamton | 6-26 (5-11) | America East Qtrs. | St. Bonaventure 69-51 |
| Nov. 17 | Syracuse | 18-13 (9-9) | ACC first round | First meeting since 12/19/09 |
| Nov. 21 | Loyola (Md.) | 11-19 (7-11) | Patriot First Round | First meeting since 12/18/11 |
| Nov. 24 | Canisius | 18-15 (11-9) | CIT Quarterfinals | St. Bonaventure 59-53 |
| Nov. 28 | Hofstra | 20-14 (10-8) | CBI First Round | First meeting since 1992 |
| Dec. 2 | Buffalo | 20-9 (11-6/MAC champs) | NCAA 1st Round | St. Bonaventure 72-63 |
| Dec. 5 | Ohio | 10-20 (5-13) | MAC 1st Round | St. Bonaventure 80-70 |
| Dec. 8 | Vermont | 20-14 (12-4) | CBI Semifinals | First meeting |
| Dec. 19 | South Carolina St. | 10-21 (7-9) | MEAC First round | First meeting |
| Dec. 22 | Siena | 11-20 (7-13) | MAAC Quarterfinals | Siena 73-70 |
| Dec. 30 | Niagara | 8-22 (7-13) | MAAC 1st Round | St. Bonaventure 74-59 |