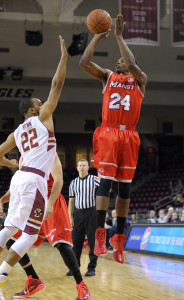 Courtesy of GoRedFoxes.com
KANSAS CITY, Mo. – Three members of the Marist men's basketball team were selected to the National Association of Basketball Coaches (NABC) 2014-15 Honors Court on Thursday afternoon. Senior guard Tourron Whitfield, senior guard/forward Manny Thomas and junior center Eric Truog were the Red Foxes selected to receive this honor.
The NABC Honors Court recognizes those men's collegiate basketball student-athletes who excelled in academics during the past season. The NABC Honors Court recognizes the talents and gifts that these men possess off the court and the hard work they exhibit in the classroom.
In order to be named to the Honors court, a student-athlete must meet a high standard of academic criteria. The student-athletes must academically be a junior or senior varsity player. They must have a cumulative grade point average (GPA) of 3.2 or higher at the conclusion of the 2014-15 academic year. The students must have matriculated at least one year at their current institution, and finally they must be a member of a NCAA Division I, II, III, or NAIA Division I or II institution with a NABC member coach.
Whitfield, a business administration major made his first two career starts during his final season for the Red Foxes this past year. Thomas, who was a criminal justice major finished tied for Marist's all-time career leader in games played. Truog who is a business administration major finished the season with career highs across the board.