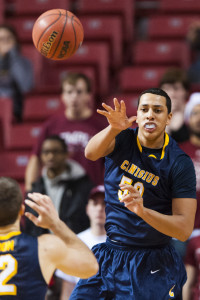 Courtesy of GoldenGriffs.com
Eurobasket.com announced today that former Canisius men's basketball player Josiah Heath has signed a professional contract with Aris Leeuwarden of the Holland-Eredivisie. Heath is the sixth former Golden Griffin to sign a professional contract to play overseas since head coach Jim Baron took over the program prior to the start of the 2012-13 season.
Heath, the program's career-leader in games played with 131, averaged 4.9 points and 4.6 rebounds per game in his four-year career at Canisius, which ran from 2011-15. The Rochester, N.Y. native played in and started all 33 games in his senior season, where he was good for 9.9 points, 6.8 rebounds and 1.1 blocks per game. He closed out his senior campaign by scoring in double figures in 12 of the team's final 18 contests, highlighted by his career-high 23 points in the team's road win over Bowling Green in the second round of the 2015 CollegeInsider.com Postseason Tournament. A team captain in 2014-15, he was voted the Griffs' MVP by the coaching staff and he also ended the year ranked fourth in the MAAC in field goal percentage after he shot 51.3 percent from the floor.
In late June, Heath was a member of the USA All-Star team in the 2015 NetScouts Four Nations International Tournament in China. In seven games, Heath averaged a double-double with 12.9 points and 11.1 rebounds per game en route to being named Four Nations All-Tournament second-team.
Aris Leeuwarden finished in sixth-place in the Eredivisie standings last year after posting an 8-20 record. Heath will join with former Yale guard Javier Duren and former Bryant guard Joe O'Shea on the team's active roster.