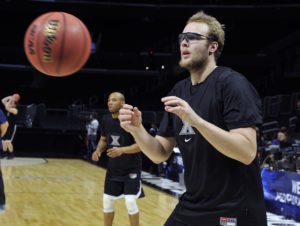 Courtesy of GoXavier.com
CINCINNATI — Xavier University graduate Matt Stainbrook has signed on to play for two different teams in 2015 NBA Summer League action. Stainbrook will play for the Indiana Pacers team in Orlando July 4-10 and the Golden State Warriors July 10-20 in Las Vegas. 
Stainbrook, who was named to the Portsmouth Invitational All-Tournament Team for his efforts in the event April 8-11 in Portsmouth, Va., also played in the 2015 Reese's Division I NABC College All-Star as part of the 2015 NCAA Division I Men's Basketball Championship weekend. 
Stainbrook was a 2014-15 Second Team All-BIG EAST Conference selection by the BIG EAST coaches. Stainbrook led Xavier in scoring at 12.3 ppg. and rebounding at 6.9 rpg., while shooting 61.3 percent from the field. He helped lead Xavier to a 23-14 overall record and a berth in the NCAA Tournament Sweet 16, while averaging team highs of 15.3 ppg. and 8.3 rpg. for XU's three tournament games.