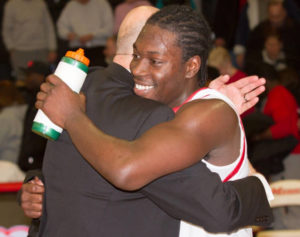 Courtesy of GoRedFoxes.com
POUGHKEEPSIE, New York – Rising red-shirt junior Khallid Hart of the Marist men's basketball team will be representing the U.S. Virgin Islands at the upcoming Caribbean Basketball Confederation (CBC) Championships.
Hart's team will play four games in a stretch of five days in group play, which will begin on Monday, June 15. The classification round will be held on Saturday, June 20 and Sunday, June 21. 
The 2014 Metro Atlantic Athletic Conference (MAAC) Rookie of the Year, Hart averaged 14.7 points per game in the 2014-15 season. He has scored 737 points in his first two seasons of action. 
Hart previously represented the U.S. Virgin Islands in the 2014 FIBA Americas Centrobasket Championship and 2012 FIBA Americas U18 Championship.
Here's is the U.S. Virgin Islands' schedule:
Monday, June 15: Cayman Islands, 1 p.m.
Wednesday, June 17: St. Vincent & the Grenadines, 6:45 p.m.
Thursday, June 18: Barbados, 9 p.m.
Friday, June 19: British Virgin Islands, 9 p.m.
-GoRedFoxes.com-