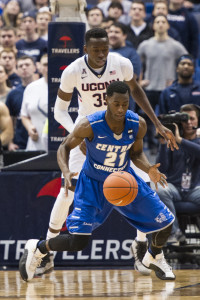 Courtesy of GoBonnies.com
ST. BONAVENTURE, N.Y. – Matt Mobley, a 6-foot-2 guard who was the leading scorer at Central Connecticut State last season, has signed an athletics grant-in-aid and will transfer to St. Bonaventure University. Per NCAA rules, he will sit out next season and then have two years of eligibility starting in 2016-17.
Mobley, who is from Worcester, Mass., spent the past two years at Central Connecticut State. This season, he ranked third in the Northeast Conference in scoring at 17.2 points per game and was named the NEC's Most Improved Player as well as to the second team all-NEC. Mobley averaged 2.8 rebounds and 1.8 assists per game and shot 36 percent (74-207) from three-point range and 75 percent at the free throw line. His four 30-point games were the most of any NEC player.
As a freshman, Mobley averaged 6.8 points per game and was selected to the NEC All-Rookie team.
"We are really fortunate that Matt has chosen to join our program," said St. Bonaventure head coach Mark Schmidt. "Matt is a proven Division I player. He's a scorer who can really put the ball in the basket in a number of ways. He can shoot threes, he can take people off the bounce and he can get to the (free throw) line. When Marcus Posley graduates (after next season), we hope that Matt can fill some of that void."
Prior to playing at Central Connecticut, Mobley attended Worcester (Mass.) Prep for one season. He is a graduate of St. Peter Marian High School.