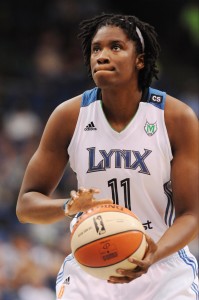 Courtesy of GoXavier.com
CINCINNATI – Former Xavier women's basketball standout Amber Harris recently re-signed with the Minnesota Lynx after playing overseas in Poland a year ago and rehabbing a knee injury.
Harris spent thee seasons in Minnesota, playing in 84 games from 2011-13. The 6-foot-5 forward averaged 3.0 points and 1.8 rebounds per game with the Lynx, while helping the squad win WNBA Titles in 2011 and 2013.
Harris was taken as the No. 4 overall pick in the 2011 WNBA Draft after a four-year career with the Musketeers. The two-time Atlantic-10 Player of the Year finished her career ranked second on the school's all-time scoring list with 2,205 points.