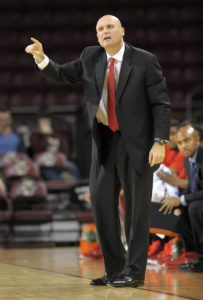 Courtesy of GoRedFoxes.com
POUGHKEEPSIE, New York – Marist head men's basketball coach Mike Maker has announced the signing of Ryan Funk to a National Letter of Intent.
Funk will join the Red Foxes as a true freshman for the 2015-16 season. He is Marist's third signee for this coming season, following the additions of Brian Parker and Isaiah Lamb. 
Ryan Funk – 6-5 / 195 – Guard / Forward – Clarence, N.Y. / St. Thomas More Prep (Conn.) 
Funk is highly regarded as a quality three-point shooter who also possesses good athleticism. In his post-graduate season of 2014-15, he helped lead St. Thomas More Prep to the finals of the New England Preparatory School Athletic Council (NEPSAC) Tournament and the semifinals of the National Prep Championship.
Funk is ranked 11th in the Connecticut Class of 2015. He is one of seven St. Thomas More Prep players from the Class of 2015 to accept a full scholarship. St. Thomas More Prep is coached by Jere Quinn, who also coached former Red Fox Ben Farmer, who played at Marist from 2004-08. 
Funk previously played scholastically at Clarence High School in western New York.
Coach Maker on Funk: "Ryan's character, intelligence and skill make him an ideal fit for our program and institution. His length, athleticism and ability to shoot from distance fill our immediate needs and complement his classmates, Brian Parker and Isaiah Lamb, very well. He also comes from a terrific family with ties to our region and played for an outstanding coach in Jere Quinn and a highly successful program at St. Thomas More." 
Marist will be entering its second season under Maker's direction in 2015-16.

-GoRedFoxes.com-