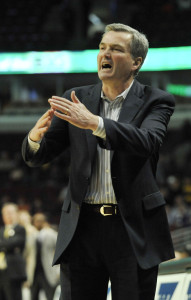 Courtesy of GoHolyCross.com
WORCESTER, Mass.
– Holy Cross head coach Bill Carmody has announced his complete men's basketball staff for the 2015-2016 season.
Joe Kennedy
and
Freddie Owens
have both been named assistant coaches, while assistant coach
Kevin Driscoll
and coordinator of operations
Matt Fava
have been retained.
"I am happy that we have been able to put together a well-rounded, experienced group." said Carmody. "They are all high-character individuals with great knowledge of recruiting, scouting and game preparation. They also have experience in different areas of the country, at various levels and in multiple conferences. I feel this group will be a great fit for Holy Cross on all fronts."
Kennedy joins the Crusaders after serving as a video coordinator for the Sacramento Kings during the 2014-2015 season. He was previously the director of player personnel at Oregon State in 2013-2014, and spent three seasons as the director of men's basketball operations under Carmody at Northwestern from 2010-2013. While at Northwestern, Kennedy assisted in a variety of responsibilities with the program, including handling all travel arrangements and serving as the team's academic liaison. A 2007 graduate of Northwestern with a bachelor's degree in education and social policy, Kennedy was a three-time Academic All-Big Ten selection. Following his graduation he worked for the Obama for America and Obama Transition Team, before spending time as a special assistant for the Office of Public Engagement at the White House. In addition, Kennedy worked for the Hoop Group in 2008 as a special assistant to the president, coordinating logistics for Spring Jam Fests.
Owens has eight years of collegiate coaching experience, and has been a part of seven NCAA Tournament teams as either a player or a coach. During the 2014-2015 season, he served as an assistant coach at Utah Valley University. Owens was previously an assistant coach at Oregon State during the 2013-2014 campaign, helping the Beavers to an overall record of 16-16 and a trip to the College Basketball Invitational. Prior to his time at Oregon State, he served as an assistant coach at Montana for four seasons from 2009-2013. Owens helped the Grizzlies to four straight 20-win seasons and a total of 93 victories, with the team winning three Big Sky Conference Tournament titles and making three trips to the NCAA Tournament (2010, 2012 and 2013). Before becoming an assistant coach at Montana, Owens served as a graduate assistant at Iowa State University during the 2008-2009 season. He was also an assistant coach in 2007-2008 at Adams State College in Alamosa, Colo., and helped the team go 18-10, its most wins in a season since joining the Division II ranks. Owens earned his bachelor's degree in life sciences and communications from Wisconsin in 2005 and his master's degree in higher education from Iowa State in 2011.
Driscoll will be in his third season as an assistant coach for the Crusaders in 2015-2016. He is heavily involved in all areas of the Crusader program, including on-court coaching, player development, recruiting, film exchange and scouting. During his first two years on the staff the team has posted an overall record of 34-30, including a 20-14 mark in 2013-2014 (the team's first 20-win season since 2006-2007). Driscoll came to Holy Cross from the Hoop Group, where he served as the director of the Elite / Eastern Invitational and the Skills / Pocono Invitational for four years. He directed all aspects of the largest basketball camps in the country, which included over 3,500 players in the summer and 1,800 players for the spring and fall showcases. Prior to his time with the Hoop Group, Driscoll was an assistant coach at Albright College in Reading, Pa., for three seasons from 2006-2009. He began his career as the head boys' basketball coach at Hamburg (Pa.) Area High School from 2004-2006. Driscoll is a 2004 graduate of Misericordia University in Dallas, Pa., with a bachelor's degree in sport management.
Fava will be in his second season as Holy Cross' coordinator of men's basketball operations in 2015-2016. His primary responsibilities include serving as the team's travel and video coordinator, in addition to assisting with recruiting efforts, summer camps and day-to-day office duties. Fava came to Holy Cross from Castleton (Vt.) State College, where he served as a graduate assistant coach for two seasons. He helped the Spartans to an overall record of 36-22 during his two years on the staff, with marks of 19-9 in 2013-2014 and 17-13 in 2012-2013. Fava was previously an assistant coach at Connecticut College for three seasons from 2009-2012. He also served as the team's recruiting coordinator, helping to secure commitments from players in seven different states. Fava is a 2008 graduate of Connecticut College with a bachelor's degree in English, and went on to receive his master's degree in education from Castleton State in 2014.
Holy Cross will be entering its first year under Carmody in 2015-2016. The Crusaders finished the 2014-2015 campaign with an overall record of 14-16 and an 8-10 mark in the Patriot League.