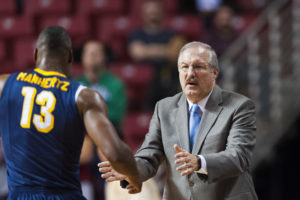 Courtesy of GoGriffs.com
Canisius head men's basketball coach Jim Baron announced today that Kiefer Douse (Brampton, Ontario) and Malcolm McMillan (Baltimore, Md.) will join the Golden Griffins for the 2015-16 season.
Douse will have two years of eligibility remaining after he spent the 2014-15 season at Jacksonville College, which is located in Jacksonville, Texas. A 6-foot-3, 175-pound guard, Douse averaged 8.6 points, 3.5 rebounds and 2.6 assists per game last season for the Jaguars as the team posted a 19-12 overall record and an 8-11 mark in league play. Douse started 22 games for Jacksonville and ended the season by shooting 50.8 percent (94-for-185) from the field, 37 percent (20-for-54) from 3-point land and 77.6 percent (59-for-76) from the free-throw line. His 76 trips to the charity stripe ranked second-best on the team, and his 28 steals ranked fourth on the roster.
McMillan, who played at Central Connecticut State from 2011-15, has signed a financial aid agreement at Canisius to play his final collegiate season with the Griffs. A 6-foot, 180-pound guard, McMillan will complete his undergraduate degree at Central Connecticut State next month and then enroll in graduate school at Canisius. He has one season of eligibility remaining.
McMillan played in just two games for the Blue Devils in 2014-15 before being forced off the court with a back injury. He played in 91 career games at Central Connecticut State, where he made 87 starts. In 2013-14, his last full season with the Blue Devil program, he ranked third on the team in scoring with his 10.8 points per game, and he was also good for 3.5 boards and 3.2 assists per game.


Douse and McMillan will join Ron Gombe (Nairobi, Kenya) on the Griffs' roster next season. Gombe, a 6-foot-8, 230-pound forward, did not play during the 2014-15 basketball season at Valley Forge Military College located in Wayne, Pa., leaving him with three years of eligibility, starting next season.