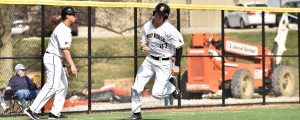 Courtesy of NKUNorse.com
INDIANAPOLIS –Caleb Lonkard each finished 4-for-5 and drove in two runs to lead the Northern Kentucky University baseball team to an 8-2 victory over Butler University in nonconference action on Tuesday.
Lonkard was one of two NKU players to record a multi-hit game as the Norse improved to 13-23 overall. David Head finished 3-for-4 with one RBI, while Trey Ganns went 1-for-2, drawing two walks, and drove home three runs for NKU, which finished with 12 hits and left 10 base runners stranded.
Cody Cooper (3-3) earned the victory on the mound for the Norse, allowing just one run on four hits with one strikeout over six innings of relief. Starter Tyler Miller gave up one run on three hits in three innings of work, and he struck out four batters and walked three.
Kuzniczci's third home run of the season sailed over the right-field line in the top of the third inning to open the game's scoring, giving NKU a 1-0 lead before Butler answered in the bottom half. Nick Bartolone drew a one-out walk and went to third on a Chris Maranto single through the right side. A Tyler Houston RBI ground out allowed Bartolone to score, bring the game even.
The Norse regained the lead in the fourth. After LeFevers hit a one-out double to the gap in right-center field, he moved to third on a Pence single to left field. Lonkard put NKU back on top, 2-1, with a safety squeeze, which brought LeFevers home.
NKU stretched its lead to 5-1 in the top of the seventh. Heady reached on an error by shortstop Garrett Christman, and a sacrifice bunt from Head sent him to second. Kuzniczci reached base on a wild pitch after striking out swinging, and Heady went to third on a throwing error by catcher Chris Marras. After the Norse recorded the second out of the inning, Trey Ganns sent a three-run blast over the right-field wall for his second home run of the year.
An RBI single by Drew Small allowed Austin Miller to come home in the bottom of the seventh, cutting the NKU advantage to 5-2, but the Norse pushed its lead back to four (6-2) on a bunt single by Head, which scored Taylor Sears, who pinch ran for Pence. Lonkard drove in Logan Spurlin and Brad Bohlen, whose run was unearned, in the ninth for the final margin of the game.
Bartolone led the way for Butler, which fell to 15-24 on the year, going 2-for-4 with one run scored. Fiver other Bulldogs accounted for the other five hits with Houston and Small recording RBIs. Connor Mitchell (0-2) took the loss after surrendering two runs on seven hits with five strikeouts and three walks in 4.2 innings of work in the start.
NKU continues its tour in the state of Indiana on Wednesday as the Norse head south to take on Evansville. First pitch is scheduled for 7 p.m.