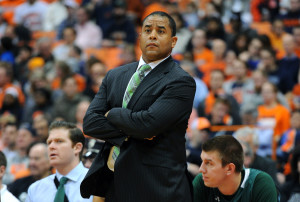 Courtesy of LoyolaGreyhounds.com
BALTIMORE — Nova Scotia native Nevell Provo has signed a National Letter of Intent and will join the Loyola University Maryland men's basketball program as a member of the Class of 2019.
Provo, who has competed for the Canadian Junior Men's National Team, will come to Loyola from North Preston, Nova Scotia. He played from 2013-2015 at Pine Ridge Secondary School in Pickering, Ontario, and he also competed for Huntington (West Virginia) Prep from 2011-2013.
Last season, Provo, a point guard, scored 18.9 points per game and averaged nine assists and 3.6 rebounds per contest while helping Pine Ridge to the Ontario Federation of School Athletic Associations (OFSSA) Bronze Medal. It was the first time a sports team from Pine Ridge has medaled at an OFSAA Tournament.
"We are very pleased to add a point guard of Nevell's caliber to our incoming freshman class," said G.G. Smith, Loyola's head coach. "He has shown both in high school and on the international level to have the ability to run the offense at a high tempo, distribute the ball and also provide scoring. We think that he is going to be a great fit for Loyola both on the court and academically."
Provo was named to the BioSteel All-Canadian Game, a national all-start game in which he played earlier this week.
He is currently a member of the Canadian U-18/U-19 Team, a squad that won the silver medal at the FIBA Americas for Men Tournament in Colorado Springs last summer, winning four games before falling to the United States team in the championship game.
The second-place finish was the best-ever for a Canadian men's age-group team, and it earned the country a spot in the 2015 U-19 FIBA World Cup to be held this summer in Greece. In the five games he played in the FIBA Americas tournament, Provo averaged 2.4 assists per game.
In 2013-2014, he averaged 15.3 points and six assists per game for Pine Ridge.

Provo was also a standout in the classroom. He earned National Honor Society recognition from 2011-2013 at Huntington, and he was a member of the honor roll from 2010-2015. He also earned First Degree Honors in 2015 and was an Ontario Scholar that year.
Provo joins James Fives (Scranton, Pa./The Hill School) to form the Loyola Class of 2019.