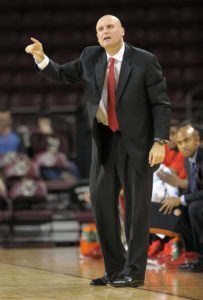 Courtesy of GoRedFoxes.com
POUGHKEEPSIE, New York – Marist head men's basketball coach Mike Maker has announced the signing of Isaiah Lamb to a National Letter of Intent.
Lamb is a native of Baltimore, Maryland who will join the Red Foxes as a true freshman for the 2015-16 season.
Isaiah Lamb – 6-5 / 205 – Guard / Forward – Baltimore, Maryland / Dulaney 
As a senior, Lamb averaged 25 points, 12 rebounds and five assists per game. His season was curtailed due to a knee injury suffered on Jan. 16.
In his junior season, Lamb was named First Team All-Baltimore County, and led Dulaney to the 4A North Region finals. He averaged 17.2 points, 10.6 rebounds, 4.1 assists and 3.3 steals per game.
Lamb was one of the subjects of an October 2014 Sports Illustrated story on homeless athletes.
Coach Maker on Lamb: "We are thrilled to welcome Isaiah and his wonderful family to Marist and our basketball program. Isaiah's impeccable character and remarkable resiliency has allowed him to achieve a great deal of success both on and off the court. He is an elite athlete, a dynamic scorer and a versatile defender. Along with early signee Brian Parker, we expect both of these quality young men to make early and meaningful contributions to our program."


Dulaney Head Coach Matt Lochte on Lamb: "Isaiah Lamb is one of the best players to ever play at Dulaney High School – arguably the best athlete in the program's history. He is a true student of the game and extremely coachable. He has a physical and mental toughness that makes him a nightmare for opponents. He is a leader and a winner. He was a joy to coach not only because he is a great basketball player, but also because he is an outstanding young man. Isaiah Lamb will do amazing things at Marist College. We are extremely proud of him!"
Marist will be entering its second season under Maker's direction in 2015-16.
-GoRedFoxes.com-