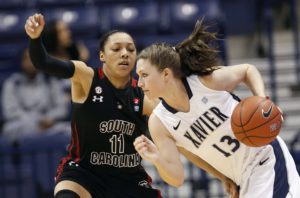 Courtesy of GoXavier.com
CINCINNATI – Former Xavier women's basketball player Ashley Wanninger was named the head women's basketball coach at her alma mater, Colerain High School, on Friday afternoon.
Wanninger played in 112 games with 79 starts from 2010-14 with the Musketeers, averaging 6.7 points and 3.7 rebounds per game. As a senior, she averaged a team-high 11.3 points per game to go along with 62 three pointers.
Wanninger finished her career with 146 three pointers to rank eighth in the Xavier career record books. She also ended her career with 753 points, 283 rebounds and 116 assists.