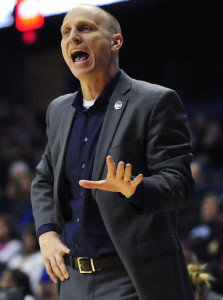 Courtesy of GoXavier.com
CINCINNATI – Xavier University Director of Athletics Greg Christopher has announced the contract of head women's basketball coach Brian Neal has been extended through the 2018-19 season. Neal recently wrapped up his second season as head coach, leading the team to an 18-15 record and a postseason tournament.
"The turnaround of our women's program is on track," said Christopher. "Brian and his staff led the team through an important year. A winning campaign and postseason tournament experience were significant steps in building a successful program. While there is still work to be done and we have championship expectations, Brian has a strong foundation for the future."
Neal led the team to a 10-win improvement from a year ago (18-15 vs. 8-23), finishing the year ranked ninth nationally in win improvement. Xavier also posted a winning season and participated in a postseason tournament for the first time since the 2010-11 campaign.
"I appreciate the confidence Greg Christopher and our administration has in me as our head coach," said Neal. "I look forward to carrying the momentum from this year into the future as we build towards a championship caliber program."
Neal and the Musketeers return four starters and 13 letterwinners for the 2015-16 season.
# xavier university athletics #