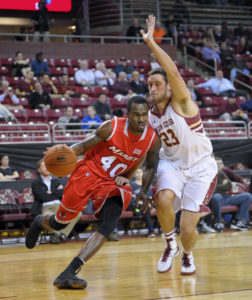 Courtesy of GoRedFoxes.com
KANSAS CITY, Missouri – Senior guard/forward Chavaughn Lewis (Queens, N.Y.) of the Marist men's basketball team was named National Association of Basketball Coaches (NABC) Second Team All-District on Friday.
Lewis concluded his Marist career with a program record of 2,119 career points, a total good for sixth place in MAAC history. In the 2014-15 season, he led the Metro Atlantic Athletic Conference in scoring (20.6 points per game) and steals (2.31 per game). His scoring and steals averages rank 10th and 13th in the NCAA, respectively, as of March 26.
This season, Lewis also led Marist in in defensive rebounds, assists, blocks, three-pointers, field goals made and attempted, free throws made and attempted, and minutes played. He scored at least 20 points 18 times, and had two games with at least 30 points.
Lewis was named MAAC & Met Basketball Writers Association Player of the Week on Feb. 2, a day after scoring a career-high 35 points at Canisius on 14-for-16 shooting from the field.
Lewis was named Second Team All-MAAC in 2015 and 2014, Third Team All-MAAC in 2013, and to the MAAC All-Rookie Team in 2012. He served as team captain as a junior & senior.
Lewis departs Marist also holding the program's all-time records for field goal attempts (1,757), free throw attempts (810) and free throws made (543). He is tied for first in games played (123). Lewis also ranks in the program's top 10 in field goals made (728, third), scoring average (17.2, third), steals (243, third), rebounds (636, seventh), assists (308, ninth), three-point attempts (386, ninth), and blocked shots (75, 10th).
The NABC district voting consists of all schools from the MAAC and America East Conference.
-GoRedFoxes.com-