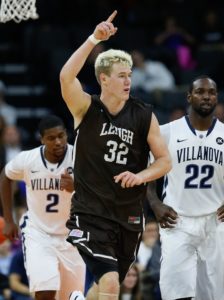 Courtesy of LehighSports.com
BETHLEHEM, Pa. – Lehigh men's basketball sophomore and Patriot League Player of the Year Tim Kempton has been named an NABC first team All-District honoree, as announced on Friday. The Mountain Hawks have placed someone on the NABC All-District player for six times in the last seven years.
Kempton is Lehigh's first All-District member since both Gabe Knutson and Mackey McKnight were named to the second team in 2013. C.J. McCollum was named to the first team the previous three seasons while Zahir Carington earned second team laurels in 2009.
Kempton is the only Patriot League player named to the first team of District 13, which features the Patriot League, Ivy League and Independents (NJIT). Three others from the Patriot League (Chris Hass, Dan Trist and Damon Shermon-Newsome) were named to the second team.
The sophomore standout was a dominant force on the court, leading the team in scoring (15.3 ppg) and rebounding (8.7), which also led the Patriot League. He owned 13 double-doubles in 2014-15 to reach 19 for his career. Kempton was named Patriot League Player of the Week after 50 combined points against American and Holy Cross, which included a career-high 26 points against the Crusaders.
The Scottsdale, Arizona native reached double-figure points in the final 20 games of the season and tallied double-doubles against each of Lehigh's three power conference opponents: Villanova, DePaul and Arizona State.  Kempton became Lehigh's fourth-ever Patriot League Player of the Year and first since C.J. McCollum in 2012. McCollum also won the award in 2010 while Austen Rowland earned the honor in 2004.


The Mountain Hawks finished the season with a 16-14 record, finishing 10-8 in the Patriot League to earn the #3 seed in the league tournament. After a tough start, Lehigh made impressive strides as the season progressed, winning seven-of-eight games beginning in mid-January to jump near the top of the league standings. The Mountain Hawks defeated a pair of power conference programs in DePaul and Arizona State while finishing 3-3 against teams who made the NCAA Tournament and NIT. Lehigh returns its six leading scorers next season, including the reigning Patriot League Player and Rookie of the Year, as excitement around the program continues to rise.
Like Lehigh Men's Basketball on Facebook, follow on Twitter and Instagram for exclusive content, team updates and more.
District 13
First Team
Wesley Saunders Harvard
Justin Sears Yale
Tim Kempton Lehigh
Maodo Lo Columbia
Damon Lynn NJIT
Second Team
Dan Trist Lafayette
Chris Hass Bucknell
Shonn Miller Cornell
Javier Duren Yale
Damon Sherman-Newsome Colgate