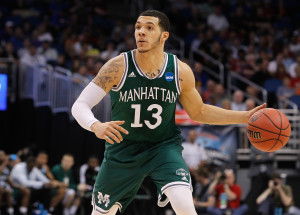 Courtesy of MAACSports.com
ALBANY, N.Y. – No. 3 Manhattan College earned a 65-48 win over No. 7 Saint Peter's University in the semifinal round of the MAAC Men's Basketball Championship at the Times Union Center in Albany, New York.
Saint Peter's Tyler Gaskins scored on a jumper one minute and eleven seconds into the game to give the Peacocks an early 2-0 lead. Shane Richards of Manhattan would turn right around and make a basket from beyond the arc to take the lead from the Peacocks and go up 3-2. The Jaspers would not relinquish the early lead for the duration of the contest. With 13:07 left on the clock in the first half Zane Waterman would hit a trey to give the Jaspers a seven point advantage providing Manhattan a 13-6 lead. Saint Peter's would make their way back within one possession after back to back three pointers from Trevis Wyche and Marvin Dominique to make the score 17-14 in favor of Manhattan. A Dominique jumper with 6:40 remaining win the half would bring the Peacocks within one point for the closest score of the game. A layup followed by a free throw by Manhattan's Richards would give the Jaspers a 30-23 lead with 1:14 left to play in the half. Another three pointer before the buzzer by Richards would bring the score to 33-23 at halftime.
Manhattan would continue to surge in the second half with a 14 point lead after an Emmy Andujar jumper with 10:39 left to play. As 5:27 passed on the clock, a Gaskins free throw brought Saint Peter's within seven points of Manhattan, down 46-39. Another basket from beyond the arc for Waterman would give the Jaspers a 15 point lead, their biggest of the game until the final minute of play. With under a minute left, free throws from Richards and Tyler Wilson would close the game for the Jaspers and give them the 17 point victory over Saint Peter's, 65-48
Richards ended the game with a game high 14 points, seven rebounds, and three assists, while teammates Zane Waterman and Ashton Pankey scored 10 points each. Saint Peter's was led by Dominique, who finished the night scoring 13 points, while Gaskins was the only other Peacock to score in double figures with 12 points.
Manhattan moves to the final round of the championship on Monday and will meet No. 1 Iona at 9:00 p.m. on ESPN2.