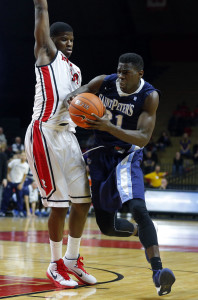 Courtesy of MAACSports.com
ALBANY, N.Y.  – No. 7 Saint Peter's University knocked off No. 2 Rider University, 68-59, in the quarterfinal round of the MAAC Men's Basketball Championship at the Times Union Center in Albany, New York.
Rider scored the first basket of the contest to take a 2-0 lead, but a three point bucket by Saint Peter's Jamel Fields with 19:11on the clock would spark a 9-0 Peacock run. Saint Peter's kept the lead throughout the half only allowing Rider to get within three points twice and ended the half on an 8-0 run to extend the lead to 34-20 at the break.
Rider came out of the break strong, opening up the half on a 12-1 run, making the score 35-32, cutting the deficit to three points after a made layup form Jimmie Taylor with 16:07 remaining in the game. Saint Peter's responded by going on an 8-1 run of its own extending the lead back to double figures making it a 43-33 contest.
The Peacocks were led by Desi Washington and Marvin Dominique who scored a combined 37 points.  Washington scored a game high 22 points and added five rebounds, while Dominique registered 15 points. Both Teddy Okereafor and Khalil Alford recorded 10 points in the loss for Rider.
Saint Peter's advances to Sunday's 7:00 p.m. semifinal game in the championship and will take on the winner of No. 3 Manhattan College and No. 11 Marist College on ESPN3.