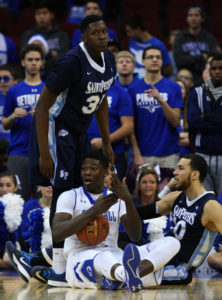 Courtesy of MAACSports.com
ALBANY, N.Y.  – Ten different Peacocks scored, as No. 7 Saint Peter's earned a 63-33, victory over No. 10 Fairfield, in the first round of the MAAC Men's Basketball Championship at the Times Union Center in Albany, New York.
MAAC All-Rookie team member Tyler Nelson opened up the game scoring the first five straight points for Fairfield giving the Stags a 5-0 advantage heading into the first media timeout of the game. Saint Peter's would respond with an 18-2 run over the next 11 plus minutes, taking an 18-7 lead into the under four media break and extending its lead to 22-7 at the half. The Peacocks held the Stags scoreless over the final eight minutes of the half. In the second half, Saint Peter's would extend its lead throughout the second half, before winning by its largest margin of the game in 30 points.
Quadir Welton led all scorers with 13 points and added seven boards, while Trevis Wyche chipped in with 12 points of his own for the Peacocks.
Fairfield's Marcus Gilbert recorded team bests with 12 points and five rebounds, and Nelson, who scored all of the Stags first half points, finished with nine points.
Saint Peter's advances to the quarterfinal round of the championship to face No.2 Rider University on Saturday, March 7 at 5:30 p.m. on ESPN3.