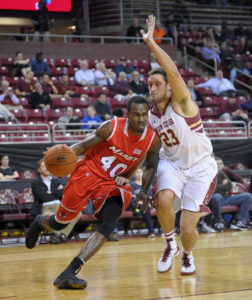 Courtesy of GoRedFoxes.com
ALBANY, N.Y.  – No. 11 Marist College upset No. 6 Quinnipiac University, 80-74, behind Chavaughn Lewis' double-double of 26 points and 11 rebounds, in a milestone first round contest of the MAAC Men's Basketball Championship at the Times Union Center in Albany, New York.
Lewis became Marist College all-time scoring leader in the first half of the game with his seventh point giving him 2,078 in his career. Quinnipiac's Ousmane Drame became only the second player in MAAC Championship history to record a 20-20 game with his game high, 27 points and game high, 23 rebounds (Todd Mattson, Army '90). His 23 rebounds was also one shy of the championship record of 24, which was set by Mattson in his 20-20 performance.
The Red Foxes opened up the game making their first seven out of eight three-pointers giving them a 29-16 lead over the Bobcats at the 7:38 mark of the first half. Marist would extend its lead to 41-27 at the half. Early in the second frame, Marist lead got as large as 17 before Quinnipiac would start a run and cut the deficit to one point making the game 50-49 with 10:48to go in the contest. Marist would score the next six straight to push the lead back up to seven. Quinnipiac got within six on several more occasions but could never get any closer.
Khalid Hart scored 18 and Philip Lawrence added 12 for the Red Foxes, while Zaid Hearst put up 16 for the Bobcats.
Marist advances to the quarterfinal round of the championship to face No.3 Manhattan College on Saturday, March 7 at 8:00 p.m. on ESPN3.