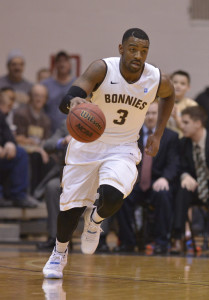 Courtesy of GoBonnies.com
The Short Story: St. Bonaventure turned in one of its best defensive efforts of the season to earn a 64-48 win at Saint Louis on Wednesday.
The Bonnies improved to 9-8 in the Atlantic 10 Conference and remained in a tie for seventh place in the standings with George Washington with one game left in the regular season.  They also earned their eighth road win this season, a new program record.
St. Bonaventure led 26-18 at halftime after limiting the Billikens to 27 percent shooting over the first half. The second half was much the same as Saint Louis went 10-26 to end the game shooting only 33 percent from the field.
Andell Cumberbatch led the Bonnies with 17 points while Dion Wright added 16 and Marcus Posley had 10.
St. Bonaventure has now won three of its last four games.
How It Happened:
Marcus Posley got off to a quick start offensively, scoring off a steal and then making his first three-point attempt of the night as the Bonnies led 8-5 at the first media timeout.
St. Bonaventure led 14-11 midway through the first when it got three unanswered scores to move the lead to nine points at 20-11. Andell Cumberbatch drove for a dunk and then Chris Dees made back-to-back jumpers, the second at the

5:03

mark.
Dion Wright closed the first half with a jumper from the baseline to make it a 26-18 Bonnies lead at intermission.
The Bonnies held SLU to 27% FG (6-22) in the first half. SLU's 18 points were tied for fewest allowed by Bona in a half this season.
St. Bonaventure's lead dipped to 39-35 after a Marcus Bartley three-pointer.
Marcus Posley and Idris Taqqee then sparked an 11-2 run by St. Bonaventure that pushed the lead to 50-37 with

9:12

remaining. Cumberbatch capped the run with a drive.
From that point, the Bonnies were able to maintain at least a 10-point cushion.
Up Next: St. Bonaventure will return to Reilly Center for its final home game of the season this Saturday, March 7, against Fordham. Tip time is set for 4 p.m. and the game will air on Time Warner SportsChannel.