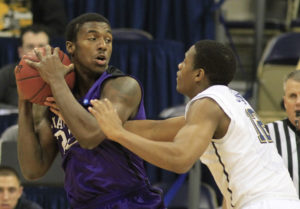 Courtesy of MAACSports.com
Player of the Week
Sr., G/F, 6-5, 195, Queens, N.Y./St. Mary's Manhasset
Averaged 16.0 points, 8.3 rebounds, 4.0 assists, and 2.7 steals while helping Manhattan go 2-1 and clinch the No. 3 seed for the upcoming conference tournament.  He began the week by scoring all 13 of his points after halftime while recording eight rebounds, five assists and four steals in 67-54 win over Marist. Andujar also was 6-of-9 from the floor in the win. He followed that up by notching his sixth double-double of the year and the 10th of his career with 17 points and 10 rebounds at Iona. In the game, he added five assists and three steals. On March 1, he helped the Jaspers clinch the No. 3 seed in a 69-65 Senior Day victory over Quinnipiac, with a team-high 18 points to go along with seven rebounds. Andujar, who has 10 20-points games this season, also became the first player in school history with 1,280 points, 730 rebounds, 350 assists and 1650 steals.
Rookie of the Week
R-Fr., F, 6-8, 200, Erial, N.J./Timber Creek
Dominique Reid averaged 18 points per game and 9.0 rebounds per game to lead the Purple Eagles in both categories as Niagara extended its season-long win streak to four games by defeating Canisius and Fairfield. Reid shot 54.2 percent (13-for-24) from the field and 76.9 percent (10-for-13) from the free-throw line. Reid tied a career-high with 20 points to lead scorers and shared game-high honors with eight rebounds in Niagara's 82-71 victory over Canisius on Tuesday. Reid registered his team-leading fifth double-double of the season sharing game-high honors with 16 points and 10 rebounds in the 57-56 win over Fairfield on Sunday. The five double-doubles are the most among MAAC freshmen this season and are the most by a Purple Eagle in five seasons.