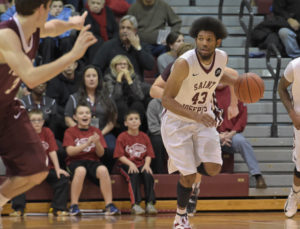 AMHERST, MASS. – DeAndre' Bembry scored a career-high 33 points, while grabbing 14 rebounds to lead Saint Joseph's to an 82-71 win over Massachusetts (16-12; 9-6 A-10) at the Mullins Center.
It was the fifth double-double of the season for the Atlantic 10's top scorer. The A-10 Player of the Year candidate shot 10-for-18 from the field, with 3-of-4 three-pointers and a career-best 10-for-11 from the foul line. He is the first Hawk to score 30 points since Langston Galloway had 31 versus Dayton in the 2014 A-10 Quarterfinals.
Isaiah Miles scored 15 points for the Hawks (12-15; 6-9 A-10), while Chris Wilson added 13 and Aaron Brown scored 11.
The win was SJU's first road win in conference play, snapping an eight-game road losing streak which started on December 29.
Leading 36-35 at halftime, Saint Joseph's opened the second half with a 15-6 run, with eight points from Bembry and threes by Miles and Wilson, to take its biggest lead of the game 51-41 with 13:46 to play. The Hawks held UMass without a point for close to four minutes, with the Minutemen breaking that streak at 13:05 on a basket by Cady Lalanne, cutting the SJU lead to 51-43.
A 14-5 run by UMass cut the deficit 56-55, but Brown gave the Hawks a 59-55 cushion with a three-point play at 9:12. Bembry followed with a layup to push SJU's lead back up to 61-55.
UMass came within 69-66 at 4:42, but Miles answered with a jumper and Brown got a tip-in to increase the SJU lead to 73-66 at 3:54.
After Saint Joseph's took the lead at the start of the game, the teams traded leads and ties throughout the first half. UMass led by as many as seven points, while the Hawks held a four-point edge. Brown hit one free throw with :03 left to give the Hawks a 36-35 lead at halftime.
Bembry, who shot 6-for-7 from the foul line in the first half, had 13 points and nine rebounds by halftime.
Saint Joseph's returns home to host Richmond on Saturday, February 28.