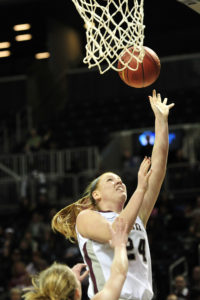 A back-on-track win for Fordham, a poor shooting night inside the RC, a winning streak no more in Pittsburgh, and a buzzer-beating three near Charlotte made up an exciting Wednesday night in #A10WBB.
Compiled by Matthew Fidurko (@Durko33Matt)
Fordham 79, George Mason 55
A hot-shooting Fordham Rams ball club, guided by Samantha Clark's 20 points, was finally able to garner a win to get back on track. Taylor Brown scored 22 points for the Patriots were are in a three-team battle at the bottom of the standings.
La Salle 66, St. Bonaventure 53
The Bonnies struggled again at home falling to the Explores on a night where they could not get anything to fall. Micahya Owens' poured in 20 points for La Salle, while Katie Healy added 19 points and six rebounds for the Brown and White.
Duquesne 60, St. Joseph's 49
The Dukes saw their eight-game winning streak come to an end thanks to Ciara Andrew's 23 points and Natasha Cloud's 12 points, five rebounds, and nine assists. Duquesne remains a lock for a top four seed while the Hawks jockey for position in the middle of the pack.
VCU 66, Davidson 63
It was a nail biter in North Carolina as Isis Thorpe nailed a buzzer-beating three-pointer to keep the Rams surging up the Atlantic 10 standings. Thorpe would finish with 16 points while Hannah Early poured in 22 for the Wildcats.
Atlantic 10 Standings—
1. George Washington – 13-1
2. Dayton – 12-2
3. Duquesne – 11-4
4. Fordham – 10-5
5. Richmond – 8-6
6. Rhode Island – 7-7
7. Saint Louis – 7-7
8. VCU – 7-8
9. St. Joseph's – 7-8
10. La Salle– 5-10
11. George Mason – 5-10
12. St. Bonaventure – 5-10
13. Massachusetts – 4-10
14. Davidson – 1-14