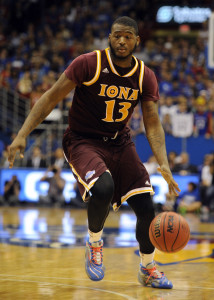 Courtesy of MAACSports.com
Player of the Week
David Laury, Iona 
Sr., F, 6-9, 245, East Orange, N.J./Lamar State – Port Arthur (TX)/Niagara Prep
Senior David Laury led the Gaels to two hard fought, tight wins over Marist and Monmouth averaging 22.5 points, 10.5 rebounds, 2.0 assists, 1.0 steals and 1.0 blocks while shooting 57.7 percent from the field. On Friday night, Laury scored 21 points and grabbed a career-high 18 rebounds for his 14th double-double of the season and MAAC-leading ninth contest with 20+ points and 10+ rebounds, more than double the four accomplished by Quinnipiac's Ousmane Drame and Zaid Hearst. Only six MAAC competitors have more than one on the season. Sunday afternoon, Laury had a game-high 24 points, shooting 7-for-14 from the field with two three-pointers and an 8-for-11 effort from the charity stripe. Laury also added three assists, three rebounds a block and a steal in the double-digit come-from-behind victory over Monmouth.
Rookie of the Week
Fr., G, 5-10, 155, Stamford, Conn./South Kent School/Trinity Catholic
Freshman Schadrac Casimir averaged 18.0 points, 1.5 rebounds, 1.0 assists and 1.5 steals in an iron man effort in the Gaels two wins at Marist and vs. Monmouth. Casimir scored 19 points at Marist, shooting 50.0 percent from the field and 57.1 percent from beyond the arc Friday night. On Sunday afternoon Casimir posted 17 points with two assists and two steals in leading the Maroon & Gold in a double-digit come-from behind victory over Monmouth. Casimir's three-ball with 13:00 remaining completed Iona's erasure of a 16-point deficit, giving his team a 49-48 advantage and its first lead in nearly 16 minutes in the contest. With the Gaels trailing by four with2:29 to play, Casimir calmly sank another three-pointer to cut the Hawks lead to one while setting up the eventual game winning sequence by teammate A.J. English two possessions later. Casimir had eight three-pointers in the two contests, running his season-total to a MAAC best 88, a total which also leads all NCAA Division I freshmen in 2014-15.  He now leads Ohio State super freshman D'Angelo Russell by 14 makes following Russel's two makes vs. Michigan Sunday.