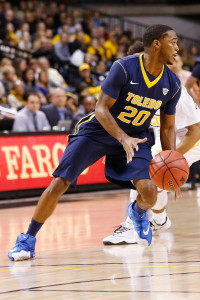 By Justin LaDuca
1.) Justin Moss, Buffalo
Continues to put up conference leading numbers, his team just needs to get out of this slump.
2.) Ray Lee, Eastern Michigan
Eagles riding a two-game win streak, may have some momentum going into the MAC Tournament.
3.) Julius Brown. Toledo
Averaging 15.9 points a game, plays on a tough team that could contend for the MAC crown.
4.) Chris Fowler, Central Michigan
Chippewas have won three in a row, and are early favorites for the MAC championship. Fowler continues to lead team in points (15.4 ppg) and MAC in assists (134).
5.) Jimmy Hall, Kent State
Golden Flashes are only a game out of the East Division Title.  Need to win some key games here in crunch time.
6.) Shannon Evans, Buffalo
Sophomore adds depth to a Buffalo team that needs to turn it around towards the end of the season.  Bulls can still contend and be a tough team in the tournament's fresh start.
7.) David Brown, Western Michigan
Was on a "Big Dance" team last year, will his Broncos return again in 2015?
8.) Javarez Willis, Ohio
A rough year for the Bobcats, but Willis has been a bright spot averaging 14.8 ppg and seventh in the MAC in scoring.
9.) Maurice Ndour, Ohio
Another good player for the Bobcats, despite difficult season. Second in the MAC in rebounds (188) and second in rebounds per game (8.5).
10.) Richaun Holmes, Bowling Green
Falcons are playing some great basketball of late, winning four in a row.  Look for them to carry this momentum into the postseason, where they can be dangerous.