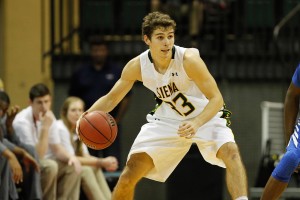 Courtesy of GoRedFoxes.com
POUGHKEEPSIE, N.Y. – The Marist men's basketball team fell to Siena, 66-64, in a Metro Atlantic Athletic Conference gameon Thursday night at McCann Arena despite a second-half push from the Red Foxes.
Red-shirt guard Khallid Hart (Newark, Del.) scored a team-high 30 points, shooting 10-for-15 from the field, 3-for-6 from three-point range, and a perfect 7-for-7 from the free throw line. Senior guard/forward Chavaughn Lewis (Queens, N.Y.) added nine points and team-highs of three blocks and two steals.
Senior guard T.J. Curry (Brooklyn, N.Y.) had eight points with a career-high nine rebounds. Junior forward Phillip Lawrence(Baltimore, Md.) contributed eight points shooting 2-for-4 for three-point attempts. Junior center Eric Truog (Chagrin Falls, Ohio) shot 3-for-4 from the field, and finished with six points and seven rebounds. Senior forward Manny Thomas (Brooklyn, N.Y.) had six points off the bench in 26 minutes, going 4-for-4 from the free-throw line and sparking the Red Foxes in the second half with his defense and intensity.
Siena had three double-digit scorers. Guard Marquis Wright and Rob Poole tied for the team high with 15 points. Wright added game highs of six assists and four steals. Forward Javion Ogunyemi added 12 points, four rebounds and two steals.
Marist never led in the game. Siena scored the game's first seven points, and a jumper by Evan Hymes in the waning seconds of the half gave the Saints their largest lead of the first 20 minutes at 38-25 heading into the locker room.
A three-pointer by Hymes with 13:00 to go gave Siena its largest lead of the game of 18 at 53-35. Marist answered with an 11-3 spurt over the next 5:07 to cut its deficit to 10.
With 2:11 left, a layup by Wright gave Siena a 64-56 lead. The Red Foxes then scored the next eight points over the next1:29 to tie the game. Lewis, who only had five points in the game's first 38 minutes, converted a layup with 1:54 to play, and then had a scoop-and-score four seconds later to make the score 64-60 in favor of Siena.
On Siena's next possession, Lewis blocked a ball out of bounds with three seconds on the shot clock, and Curry rebounded a miss by Wright with 1:14 left. Hart converted a layup in transition to make the score 64-62 with 1:09 left. With 42 seconds to play, Siena's Lavon Long was called for an offensive foul, and a monitor review resulted in a flagrant 1. Thomas hit the ensuing pair of free throws to tie the score.
Marist kept possession after the free throws, but a steal by Wright led to a layup by Hymes with under six seconds to play. The Red Foxes were unable to get off a shot on their final possession.
Marist shot .523 (23-for-44) in the game. The Red Foxes shot .364 (8-for-22) in the first half, and .682 (15-for-22) in the second half. Siena shot .482 (27-for-56) for the game. The Saints shot .571 (16-for-28) from the field in the first half, and .393 (11-for-28) in the second half. Marist outscored Siena 39-28 in the second half.
Marist fell to 5-20 overall and 4-11 in the MAAC. Siena is now 10-14 overall and 7-8 in the MAAC.
Marist returns to action on Monday at Monmouth. Tip-off is set for 7 p.m.
Notes: Lewis currently stands at 1,973 career points. … Hart's point total was three off his career high, set at Bucknell in the season opener on Nov. 14. It was the Red Foxes' fourth 30-point effort this year, with two apiece by Hart and Lewis. … Marist did not have a shot blocked in the game. … Marist's 18 turnovers were its highest total in a game since having 21 against Rider on Jan. 2, a span of 12 games.
-GoRedFoxes.com-