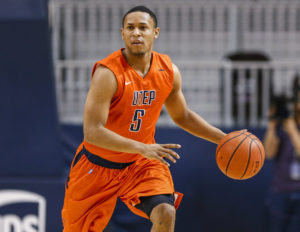 Courtesy of Charlotte49ers.com
EL PASO, TEXAS  – Mike Thorne had a double-double and Terrence Williams recorded a double-figure scoring game; but the Charlotte 49ers (10-14, C-USA: 3-8) dropped a hard fought 73-68 decision at UTEP (17-7, C-USA: 9-3).
"Our guys battled throughout the game," Charlotte 49ers interim head coach Ryan Odom said. "We got off to a slow start and UTEP had something to do with that they started the game clicking on all cylinders. We had too many turnovers but we did a better job in the second half on cutting down on our turnovers. I was proud of our effort but we have to be a little bit better."
Thorne recorded his fourth double-double of the season and the ninth of his career with 16 points and 13 rebounds. Williams recorded his seventh double-figure scoring game of the season and the 35th of his career with 12 points. Ivan Benkovic tied his season-high with nine points off the bench. Braxton Ogbueze scored eight points all in the second half. Pierria Henry scored seven points and grabbed four rebounds. Bernard Sullivan scored six points.
UTEP had five players in double-figures led by C.J. Cooper's 15 points.
Charlotte finished the game with a 40-32 advantage in bench points. The 49ers finished the game with a 39-26 advantage on the boards. Thorne led the 49ers with 13 rebounds. Willie Clayton grabbed six rebounds.
UTEP began the game by scoring 13 of the first 17 points. Then, the 49ers scored six straight points cutting UTEP's lead to 13-10 when Clayton scored inside with 13:45 on the clock. Williams scored the 49ers first eight points.
Then, UTEP went on a 14-7 run over the next six minutes taking a 27-17 lead at the 7:24 mark.
With UTEP leading 34-23 lead, the 49ers scored the final four points of the first half cutting UTEP's halftime lead to 34-27 when Henry scored on a driving layup at the buzzer.
UTEP's Cooper scored the first points of the second half with a three pushing UTEP's lead to 37-27. Then, the 49ers went on a 6-0 run behind a three-point play by Thorne and a three by Ogbueze cutting UTEP's lead to 37-33.
UTEP maintained a lead of 4-8 points over the next seven minutes. With UTEP leading 57-47 with 9:28 left in regulation, the 49ers behind a basket by Sullivan and three-points from Benkovic cut UTEP's lead to 57-52 with 8:07 left in the second half.
Charlotte cut UTEP's lead to three points, 61-58, when Thorn scored inside with 4:35 on the clock, however, the 49ers were not able to get any closer as Charlotte missed a couple of shots inside which would have cut UTEP's lead to one.
Then, UTEP pushed their lead to six points. The 49ers cut UTEP's lead to three points a couple of times over the final minute and a half. UTEP would hold off the 49ers with timely free throw shooting down the stretch.
Charlotte concludes their two-game Conference USA road trip to the state of Texas at UTSA, Saturday, February 14 at 3 pm.