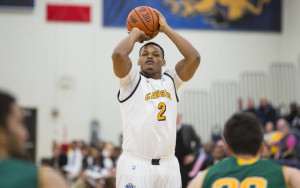 Courtesy of GoGriffs.com
Canisius head men's basketball coach Jim Baron announced today that redshirt-freshman Jermaine Crumpton will miss 4-to-6 weeks with a broken bone in his right foot. Crumpton was injured late in the Golden Griffins' loss to Monmouth Feb. 8, and an MRI on Tuesday night confirmed the injury. He will undergo surgery on Friday, Feb. 13.
Crumpton has played in all 23 games to date for the Blue and Gold and moved into the starting line-up after teammate Phil Valenti went down with an ankle injury Jan. 30. The Niagara Falls, N.Y. native ranks fourth on the team with his 7.3 points per game, highlighted by his career-high 18 points in the team's loss to Marist at home Feb. 1. In MAAC games, Crumpton is averaging 8.4 points per game, which ranks second among all league freshmen. He is good for 2.2 rebounds per game and he ranks third on the team with 16 3-point field goals.
Canisius is 12-11 overall and 7-7 in MAAC play after losing to Monmouth 44-40 on the road. The Griffs will return to action this weekend with a pair of home games, starting Feb. 13, when the team hosts Rider. Game time in the Koessler Athletic Center is set for 7 p.m.