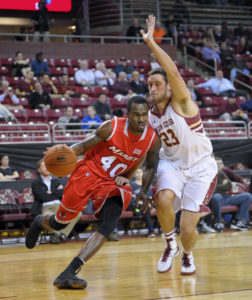 Courtesy of GoRedFoxes.com
NEW ROCHELLE, N.Y. — Senior guard/forward Chavaughn Lewis (Queens, N.Y.) moved into second place on Marist's all-time scoring list, but the Marist men's basketball team suffered an 89-67 loss at Iona in a Metro Atlantic Athletic Conference game on Sunday. The loss snapped a four-game winning streak for the Red Foxes.
Lewis passed Smits on a free throw with 6:46 left in the first half. He finished with 24 points, and now has 1,964 for his career. Lewis added three rebounds, three steals and two assists.
Red-shirt sophomore guard Khallid Hart (Newark, Del.) finished with 19 points and four rebounds. Hart shot 6-for-11 from the field. Junior center Eric Truog (Chagrin Falls, Ohio) had six points, a team-high eight rebounds and three assists against no turnovers. Freshman guard K.J. Lee (Huntington Station, N.Y.) added seven points, five rebounds and three steals in 19 minutes off the bench.
 Iona's Schadrac Casimir led all scorers with 33 points. Casimir drained nine three-pointers in 14 tries, with seven made threes in the second half. David Laury contributed 20 points, 11 rebounds and six assists. Ryden Hines had 11 points and a game-high 13 rebounds. A.J. English had six points and dished out 11 assists against just two turnovers.
 Marist did not lead at any point in the game. Iona led by as much as 15 in the first half, but the Red Foxes closed the gap with an 11-run, and trailed 45-35 at halftime.
 Lewis had a basket, a steal and a three-pointer in a seven-second span in the second half to cut Iona's lead to 56-51 with13:05 to go. However, that was the closest the Red Foxes came in the second half. The Gaels grew their lead to as much as 24, and outscored the Red Foxes 22-12 over the final seven-and-a-half minutes to pull away.
 Marist committed a season-low six turnovers. Iona shot 15-for-27 (.556) from three-point range, and had 29 assists on their 33 field goals.
 Marist fell to 5-19 overall and 4-10 in MAAC play. First-place Iona improved to 18-6 overall and 11-2 in the MAAC.
 The Red Foxes return to action on Thursday when they host Siena at 8 p.m. The game is the back end of a split admission doubleheader, following the Marist women's team's game against Quinnipiac at 5 p.m. Both contests will be carried by ESPN3.
 Notes: Lewis now trails Steve Smith, who is first in program history in points scored, by 113 points. … This was the 14thstraight game Lewis led the Red Foxes in scoring, and the 13th straight that he's scored at least 18 points. … Lewis now has 41 games in his career with at least 20 points. … Marist has had its opening night starting lineup of Hart, Lewis, senior guard T.J. Curry (Brooklyn, N.Y.), junior forward Phillip Lawrence (Baltimore, Md.) and junior center Eric Truog (Chagrin Falls, Ohio) together for eight games this year. The Red Foxes are 4-4 in these games, and have averaged 8.3 turnovers per game. Truog's assist-to-turnover ratio in these eight games is 23-to-3.
-GoRedFoxes.com-