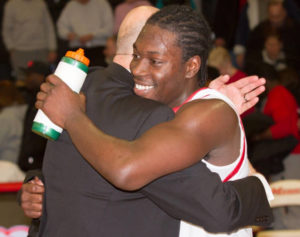 Courtesy of GoRedFoxes.com
POUGHKEEPSIE, N.Y.- The Marist men's basketball team won its fourth straight game on Friday, defeating Niagara 63-61 in a Metro Atlantic Athletic Conference game at McCann Arena. Red-shirt sophomore guard Khallid Hart (Newark, Del.) scored 11 points, including the game-winning three point shot with 3.9 seconds left in the second half.
 Senior guard/forward Chavaughn Lewis (Queens, N.Y.) scored a team-high 24 points and tied for a team-high with nine rebounds. Senior guard T.J. Curry (Brooklyn, N.Y.) added 11 points, had a team-high three steals, and tied for a team high with three assists.
 Junior center Eric Truog (Chagrin Falls, Ohio) had eight points, tied for a team-high with nine rebounds, and had three assists. Junior forward Phillip Lawrence (Baltimore, Md.) had eight points to go along with five rebounds and one assist.
 Niagara had three double-digit scorers, led by Emile Blackman with 19 points. Blackman shot 7-for-13 from the field and was a perfect 3-for-3 from the charity stripe. Dominique Reid added 18 points and had a team-high 15 rebounds.
 There were 11 ties and 11 lead changes in the contest, Marist led for 17:49 and trailed for 14:18. The Red Foxes led by as much as six in the first half, but went into halftime down 33-32.
 During the first 13 minutes of the second half there were five ties with neither team accruing a lead of more than four points.
 A dunk by Lawrence and two made free throws by Lewis gave Marist its largest lead of eight points with 3:32 remaining in the second half. Niagara made one free-throw and two three-point baskets to cut the Marist lead to one point with 1:08 left to go in the game.
 After a Marist timeout and a missed jumper by Lewis with 31 seconds left in the game Niagara took a timeout to draw up a play. After a foul by Truog with 13 seconds left in the game, Ramone Snowden went to the line for two free-throw attempts. Snowden made both free throws to give Niagara a one point lead with 13 seconds left in the second half.
 After the inbound pass to Hart, he drove down the court and pulled up for a contested three-point attempt from the left wing, and drained the game-winning shot with 3.9 seconds left in the game.
 Marist is now 5-18 overall and 4-9 in MAAC play. Niagara fell to 4-18 overall and 3-10 in the MAAC.
 Marist will travel to New Rochelle, N.Y. to take on MAAC leader Iona for the first time this season on Sunday, Feb. 8. Tip-off is set for 2 p.m.
 -GoRedFoxes.com-