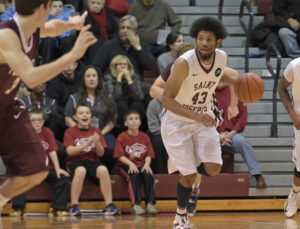 Courtesy of SJUHawks.com
PHILADELPHIA – DeAndre Bembry had 14 points and 11 rebounds, and Aaron Brown added 11 points, as Saint Joseph's (10-12; 4-6 A-10) held off George Mason, 58-54, in Atlantic 10 men's basketball action at Hagan Arena.
It was the third straight double-double for Bembry, who leads the Hawks in every offensive category, with 17.7 points, 7.5 rebounds and 3.1 assists.
The Hawks led from the start and owned a brief 10-point lead in the second half, but couldn't put George Mason (7-15; 2-8) away until the final minute.
After SJU's Chris Wilson hit a pair of free throws to increase the Hawks' lead to 54-48 with 26 seconds to play, George Mason's Patrick Holloway answered back with a three-pointer at 12.8 seconds to cut it to 54-51. Wilson then threw a length of the court pass to a streaking Bembry, who made the layup and converted the three-point play with 11.7 seconds left.
Holloway connected on another three with 53 seconds remaining, but Wilson hit one more free throw at 4.9 seconds to play to seal the win for the Hawks.
"I thought the game would be decided on the backboards, so to get that kind of deficit on the backboard (36-28) did not bode well. We had two assists in the second half," said Hawk coach Phil Martelli. "Grit and defense won the game. But, that's not nearly good enough. Jai Williams answered the bell in the first half, and I thought Shavar [Newkirk] did a nice job. The players deserve a lot of credit. Yesterday's practice was terrific defensively. It's just not a very good offense –  and we have to be much better offensively in these last eight games of the Atlantic 10."
"This is a step in the right direction. We won a game that we led at the half. We did what we had to do at the defensive end."
Shevon Thompson had 15 points and 16 rebounds for the Patriots while Holloway added 16 points, converting 3-of-5 three-pointers.
Saint Joseph's led from the start in the first half, and after George Mason forced a 13-13 tie at 11;23, the Hawks went on an 11-3 run to take their biggest lead, 24-15, at 7:07. The Patriots closed to, 27-23, but Jai Williams and Bembry each hit a pair of free throws to build the 31-24 halftime lead.
With 13 minutes to play in the second half, GMU trailed, 39-30, but went on a 9-2 run, capped by a three from Holloway to cut its deficit to 41-39. Saint Joseph's then scored the next eight points, with consecutive fast break layups by Bembry and Wilson and four straight points from Brown to take their biggest lead of the game, 49-39 at 6:16.
George Mason ended the scoreless streak at 5:58 with two free throws from Thompson, 49-41, and then a basket by Jalen Jenkins to cut the Patriots' deficit to 49-43 with 5:05 to play. The Patriots closed to 50-48 on a putback by Trey Porter and stayed within four points of the Hawks until Wilson's free throws with 26 seconds remaining.
The Hawks had a balanced scoring effort with eight of nine players reaching the scoring column. Williams had a career-high eight points, while Wilson also added eight points for Saint Joseph's, which converted 45.5 percent from the field, but only made 16-of-31 from the foul line.
The Hawks will play their second straight home game on February 11 when they host Rhode Island.