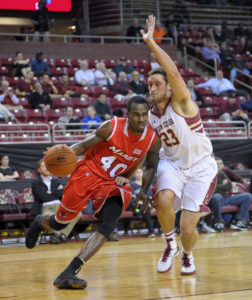 Courtesy of MAACSports.com
Player of the Week
Sr., G/F, 6-5, 195, Queens, N.Y./St. Mary's Manhasset
Lewis averaged 28.5 points, 4.0 rebounds, 2.0 assists and 1.5 steals per game and shot 65.6 percent (21-for-32) from the field as Marist went 2-0 this past week, as the Red Foxes swept the western New York trip for the first time in their 18 years in the MAAC. He was the game's high scorer at Niagara on Jan. 30 and at Canisius on Feb. 1. At Niagara, Lewis had 22 points, two rebounds, two steals, an assist and a blocked shot in Marist's 65-61 win, as he also shot 6-for-7 from the free-throw line. At Canisius, Lewis scored a career-high 35 points, thanks in large part due to 14-for-16 shooting from the field. He added six rebounds, three assists and a steal.
Rookie of the Week
R-Fr., F, 6-8, 200, Erial, N.J./Timber Creek
Dominique Reid averaged 15.5 points per game and 8.0 rebounds per game as the Purple Eagles split their home MAAC weekend. On Friday against Marist, Reid was one of four Purple Eagles to score in double figures as he had 11 points. He also grabbed six rebounds and had a game-high two blocks. Reid led Niagara in scoring with a career-high 20 points and led Niagara with 10 rebounds en route to his second career double-double in the double overtime win over Quinnipiac on Sunday. Reid played in 42 minutes and made a career-best 10 of 12 free throws. Reid scored seven of his 20 points in the two overtime periods, including making two free throws to tie the game at 92-92 with 28 seconds left to send the game into the second overtime.