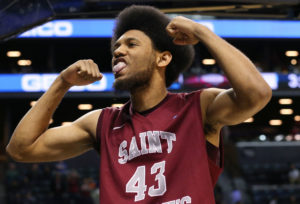 Courtesy of SJUHawks.com
PHILADELPHIA –  DeAndre' Bembry scored 25 points, and Isaiah Miles added 18, as Saint Joseph's pulled away late to defeat Massachusetts, 62-56, in Atlantic 10 action tonight at Hagan Arena.
Bembry led the Hawks in every category, adding eight rebounds, seven assists, three blocks and a career-high five steals, while shooting 9-for-16 from the field. It marked the 14th consecutive game in double figures for the sophomore and was his second consecutive 20-plus point game.
Miles connected on 7-of-12 from the field for the Hawks, who improve to 8-9 and 2-4 in the Atlantic 10.
Leading 50-49 with 4:45 to play, the Hawks scored nine in a row to break open the game. Aaron Brown had five points in that run and freshman James Demery gave SJU its biggest lead of the contest, 59-49, as Bembry fed him for a breakaway dunk with 1:12 remaining.
UMass (10-9; 3-3) cut it to 59-52 on a three-pointer by Trey Davis at :51, but SJU senior Chris Wilson hit a pair of free throws at :25 to give the Hawks a 61-53 cushion. Davis answered with another three at :18 to cut the UMass deficit to 61-56, but Bembry hit a free throw with 13 seconds left to provide the final margin.
The game was close throughout, with 10 lead changes in the contest. After a 27-27 tie at halftime, Bembry scored the Hawks' first 13 points of the second half. He connected on a three-pointer as the shot clock expired to tie the game at 38-38, and then went down the other end and recorded a block. But UMass answered back and the teams remained tied, 40-40 with over 12 minutes to go.
Miles broke the tie on a layup after a no-look pass from Bembry, which gave SJU the lead for good, 42-40.
"We really all need to be paying attention. Look at these numbers. DeAndre' had 25 points, eight rebounds, seven assists, five steals, and three blocks," said Hawk coach Phil Martelli. "It's a shame, because he's going to get overlooked because we're an average team. And it's a shame, because he's really having a spectacular year. If we can get his foul-shooting stroke going, it'll be really extraordinary."
"I thought we reacted to everything really well. In the first half, we had guys just shoot the ball because they didn't know what else to do. I was on them at halftime. If you're shooting the ball, you think it's going in. If you don't think it's going in, then don't shoot it. We had some mentally-stronger performances in the second half."
Davis led UMass with 14 points on 6-for-11 shooting while Donte Clark added 10 points.
The Hawks led at the start and were up, 21-14, after back-to-back three-pointers by Bembry and Miles. UMass then went on a 9-0 run to take its first lead of the game, 23-21. The teams traded leads the rest of the half and were tied, 27-27, at halftime.
Saint Joseph's will be the home team when it takes on Penn in a Big 5 game on Saturday night at the sold-out Palestra. Game time is 7 p.m.