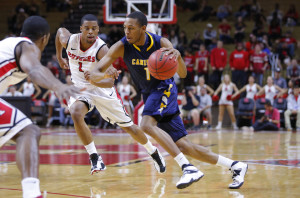 Courtesy of GoGriffs.com
JERSEY CITY, N.J. – Canisius sophomore Zach Lewis knocked down the game-winning 3-point field goal with 4.8 seconds left to play to help lift the Golden Griffins to a 60-57 victory at Saint Peter's Wednesday night in the Yanitelli Center. The win ended Canisius' three-game losing streak and moved the Blue and Gold to 3-3 overall and 1-0 in MAAC play, while the host Peacocks fell to 2-6 overall and 0-2 in conference action.
After trailing for nearly 30 minutes of game action, the Griffs took a 57-54 lead with 2:01 left in the game when junior Kevin Bleeker drained a 3-pointer from the right corner for three of his five points on the night. After both teams came up empty on back-to-back possession, Saint Peter's knotted the game at 57-57 with 38 seconds left to play. From there, Canisius held for one last shot and cleared the floor for Lewis, who drove hard to the left wing, pulled up and drained his only 3-pointer of the night as the shot clock horn sounded to put the Griffs up by three. Saint Peter's tried to go the length of the floor out of a 30-second timeout, and guard Trevis Wyche got a shot off, but the ball bounced off the side-iron as the horn sounded and Canisius walked away with its third-straight win in the Yanitelli Center, dating back to the 2012-13 season.
""This was a fight to the finish, that's for sure," Canisius head coach Jim Baron said. "Zach stepped up and made a big shot at the end, but we had a bunch of guys step up. [Phil] Valenti was key for us in the second half. He made some big buckets. I thought we did a decent job against [Marvin] Dominique. He's as good as any big man in our league. I give all our guys credit. We battled. Down 10 and we just kept battling. This is a good team win against a talented group."
Sophomore Phil Valenti was one of three Griffs to post double-figures in the scoring column, as he ended the night with 14 points to go with five rebounds, two assists and a steal. Lewis had 12 points, five boards, three assists and three steals, while senior Josiah Heath was good for 10 points, seven rebounds and two blocked shots in the win for the Blue and Gold. Canisius shot a season best 45.1 percent from the field while forcing 13 Saint Peter's turnovers. The rebounding margin was knotted at 29-29, and Canisius ended the night with 15 assists on 23 made baskets. Freshman guard Jan Grzelinski dished out a career-high six assists in the victory for Griffs.
Saint Peter's shot 48.9 percent from the field and 53.8 percent from 3-point land in the loss, but the Peacocks ended the night shooting just 40 percent (6-for-15) from the free-throw line. Elisha Boone had a team-high 11 points in the loss for Saint Peter's, while Quadir Welton and Dominique scored 10 points each. Dominique was good for eight boards as Saint Peter's fell to 0-4 on the year in games decided by five points or less.
Canisius will continue its current three-game road swing on Saturday, Dec. 6, when the team travels to play at long-time rival Niagara. The 175th all-time contest between the two schools will tipoff at 3 p.m., in the Gallagher Center and will be shown live on ESPN3.
Game Notes: This was the 72nd all-time meeting between these two Jesuit schools, with Canisius holding a 41-31 lead in the series… The Griffs have now won five straight over the Peacocks… Canisius has now won the MAAC opener in three-straight seasons for just the second time since the school joined the conference prior to the start of the 1989-90 academic year… Before this current three-year stretch, the last time Canisius won its first MAAC contest three years in a row was 1990-91 through 1992-93… In all three of the Griffs' wins this season, Canisius trailed at halftime… Valenti played in his 40th career game on Wednesday and he's now scored in double figures eight times… Lewis' three steals gives him multiple steals in four games this year and 15 times in his career… Grzelinski's six assists are the most for a Canisius player since Billy Baron had eight assists in the team's CIT game against VMI March 18, 2014.