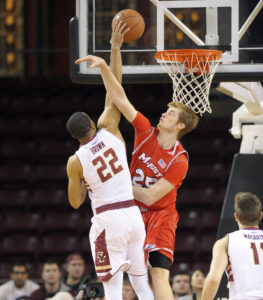 Courtesy of GoRedFoxes.com
CHESTNUT HILL, Mass. — The Marist men's basketball team suffered a 79-61 defeat at the hands of Atlantic Coast Conference opponent Boston College on Monday night at Conte Forum.
Marist senior guard/forward Chavaughn Lewis (Queens, N.Y.) led all scorers with 28 points. Senior forward Manny Thomas(Brooklyn, N.Y.) scored 13 points on the strength of four three-pointers. Junior center Eric Truog (Chagrin Falls, Ohio) scored a career-high 12 points, and did not miss a shot, going 5-for-5 from the field and 2-for-2 from the free-throw line. Truog and junior forward Phillip Lawrence (Baltimore, Md.) tied for the team lead with five rebounds.
Aaron Brown led Boston College with 19 points. Olivier Hanlan contributed nine points, nine assists, five rebounds and three steals for the Eaqles.
Boston College jumped out to a 12-5 lead in the first four minutes, but the Red Foxes battled back, and a jumper by Lewis tied the score at 18 apiece with 8:55 left in the first half. Shortly thereafter, the Eagles scored six points in 25 seconds thanks to two Marist turnovers to take a 27-20 lead. The Red Foxes once against fought hard to cut their deficit to three twice in the first half's final three minutes, but a basket by Boston College's Garland Owens on the final play of the half gave the Eagles a 41-36 lead at the intermission.
A basket by Truog made the score 41-38 with 19:08 to play, but Dimitri Batten drained a three on Boston College's next possession. Boston College slowly expanded its lead, and the Eagles maintained a lead that hovered between 12 and 18 points over the game's final 12 minutes.     
 (Video courtesy of Boston College athletics)
Boston College held a 34-20 edge in rebounds and forced 16 Marist turnovers while committing just nine.
Marist is now 1-5 overall. Boston College is 3-3.
Marist returns to action on Thursday, when the Red Foxes open Metro Atlantic Athletic Conference play against Monmouth. Tip-off is set for 7 p.m.
Tickets for Thursday's game are available for purchase on GoRedFoxes.com. For further information, contact the Marist Ticket Office at (845) 575-3553. The first 1,000 fans to attend Thursday night's game will receive a seat cushion courtesy of Papa John's. 
Notes: Prior to Monday's game, Marist had held its four previous opponents to .261 shooting from three-point range, and Boston College entered the game shooting .198 from long range. The Eagles shot 8-for-20 from three-point range. … Lewis, who played in his 100th career game on Monday, is now up to 1,648 career points. The 28-point effort was the 31st time in his career he has scored at least 20. Lewis also extended his streak of consecutive games with a steal to 31. … Freshman point guard K.J. Lee (Huntington Station, N.Y.) has four assists against zero turnovers in his last two games, which have covered 77 minutes of playing time.
-GoRedFoxes.com-