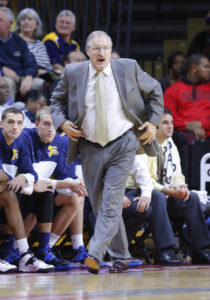 Courtesy of GoGriffs.com
Daemen junior Torrence Dyck, Jr., scored 25 points and senior forward Gerald Beverly chipped in 20 points, nine rebounds and four blocks as the visiting Wildcats defeated Canisius 83-81 in overtime in an exhibition game Tuesday night in the Koessler Athletic Center. The Golden Griffins ended their exhibition schedule with a 1-1 record and will now move on to the regular season, which starts Saturday, Nov. 15 at home when the team hosts Vermont.
Canisius sophomore Zach Lewis led all scorers with a game-high 29 points, while fellow sophomore Phil Valenti chipped in 14 points, seven rebounds and three assists. Senior Josiah Heath had 12 points in the loss for the Blue and Gold, which shot 34.8 percent from the floor for the game and made just 6-of-32 shots from 3-point land.
Canisius jumped out to a four-point lead at 79-75 just 34 seconds into overtime thanks to a basket from Heath and two made free-throws by junior Jamal Reynolds. From there, Daemen scored the game's next five points over a span of 1:30 to take an 80-79 advantage, capped by a baseline jumper from Dyck, Jr. After Valenti connected on a pair of free-throws with 1:02 left in the extra period to give Canisius an 81-80 lead, Dyck Jr., scored on a back-cut lay-up with 43 ticks to play to put Daemen up 82-81. Canisius came up empty on its ensuing possession, and Jordan Greene made it a two-point game at 83-81 with 14 seconds left after he made one of two charity tosses. The Griffs had a chance to force a second overtime or win the game outright with a final possession, but Lewis' 3-point try from the top of the key as the final horn sounded sealed the victory for Daemen.
"We knew coming in that this was a good, veteran team that was coming off a really good season last year," Canisius head coach Jim Baron said. "It was a real physical game, at both ends of the floor. I thought our guys showed some fight late in regulation to force the overtime. We're not making excuses here. We're young, but we need to play better. We need to guard better. We need guys to step up and be ready to contribute. This was a good test. Now we move forward."
Canisius trailed Daemen 75-73 with 1:03 left in regulation time after Hannah knifed through the lane and scored. Canisius had two looks at a 3-pointer to win in regulation, but missed both, with the ball going out-of-bounds and back to Daemen after the second 3-point misfire with 13 seconds left to play. Canisius applied full-court pressure and forced a turnover with six seconds left when freshman guard Jan Grzelinski grabbed the loose ball and flipped it to Lewis, who hit a jumped in the lane with three ticks remaining to send the game to overtime.
Daemen shot 50.9 percent from the field and 47.6 percent from 3-point land in the win. Canisius held a 41-40 advantage on the glass, with Reynolds pulling down a team-high nine rebounds. Canisius had 16 assists, with Lewis and Reynolds each dishing out four assists apiece, while Daemen was credited with 20 assists and 20 turnovers.
Canisius will officially start the 111th season in program history on Saturday when the team plays host to Vermont in the Koessler Athletic Center. Game time is set for 2 p.m.
Game Notes: This marked the second-straight year Canisius and Daemen have played an exhibition game, with each team winning one contest… Canisius is now 8-2 in its last 10 exhibition games, dating back to 2004-05 season… Prior to Tuesday's loss, the last exhibition loss for the Blue and Gold came Nov. 15, 2004 – an 83-73 loss to Brock University… Lewis averaged 24.5 points per game in the team's two exhibition games this season… The Griffs turned 20 Daemen turnovers into 24 points… Canisius got 16 points off the bench in the losing effort, led by redshirt-freshman Adam Weir and his seven points.