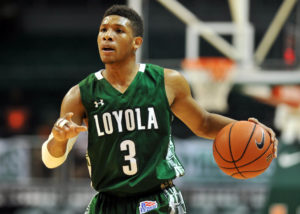 Courtesy of LoyolaGreyhounds.com
LEIDEN, Netherlands – Dylon Cormier, a 2014 graduate of Loyola University Maryland and three-time all-conference player for the Greyhounds, was named the ZZ Leiden Player of the Month this weekend, capping a highly successful first month as a professional basketball player.
Cormier (Baltimore, Maryland/Cardinal Gibbons) has led ZZ Leiden to a share of first place in the Dutch Basketball League (Eredivisie) with a 6-1 record and leads all players in the league in two-point field-goal percentage, making 41-of-57 shots inside the arc (71.9 percent).
Through seven games, Cormier is averaging 15.8 points per game, good for ninth in the Eredivisie. He also has averaged 4.2 rebounds and 1.7 assists per game. Cormier scored a season-high 21 points in an 86-73 win over Rotterdam on Oct. 25.
Last season, Cormier's year was cut short by a broken hand suffered on Feb. 1 against the U.S. Military Academy while chasing a loose ball. He was leading the Patriot League in scoring by nearly three points per game (21.2) at the time of his injury, and he was 13th in NCAA Division I when he was injured.
Despite missing the last third of his senior season, Cormier finished with 1,659 career points, good for seventh on Loyola's all-time chart.