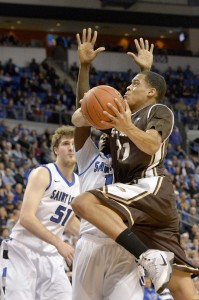 Courtesy of GoBonnies.com
Following a sophomore season that could easily been described as a breakout, St. Bonaventure junior Dion Wright has been named to Sport Illustrated's list of the "Projected Breakout Players" for the upcoming year.
Wright is slotted 22nd on the list of 50 players based upon a projection that he will increase his scoring to 13.1 points per game this season.
Sports Illustrated included players from the top 11 ranked conferences — the football power five plus the Atlantic 10, Big East, AAC, Missouri Valley, Mountain West and West Coast. The SI system "forecasts advanced statistics — such as offensive efficiency, usage rates, and rebound and assist rates — for each player and then fits them within the context of their team's rotation to yield raw stats."
Sports Illustrated's Dan Hanner and Luke Winn wrote: "Wright was the Bonnies' most efficient player last season. He finishes well around the rim, makes his free throws and rarely turns the ball over."
A 6-7 forward from Carson, Calif., Wright averaged 8.7 points and 4.8 rebounds per game coming off the bench in all 33 games as a sophomore. He made exactly 50 percent of his field goal attempts and 74 percent of his free throws. Wright more than doubled his per-game scoring and rebounding averages from his freshman season, taking advantage of 22 minutes of playing time per contest.
Wright is the Bonnies' second-leading returning scorer behind senior center Youssou Ndoye (10.7 ppg).