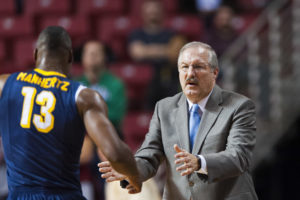 Courtesy of GoGriffs.com
Canisius head men's basketball coach Jim Baron announced today that Jan Grzelinski (Wroclaw, Poland) and Isaiah Gurley (Brooklyn, N.Y.) have signed their National Letter of Intent and will join the Golden Griffins for the 2014-15 season.
Grzelinski (pronounced GRAH-jah-lin-ski) is a 5-foot-10, 160-pound guard who previously played for his hometown Wroclaw team. He averaged 10.8 points and 3.4 assists per game last season for his club squad and helped Wroclaw advance to the league finals. A member of the Polish Junior National Team since 2010, Grzelinski has played for his native country at the 2010 FIBA U-16 European Championships, the 2011 FIBA U-18 European Championships and the 2014 FIBA U-20 European Championships, which were held last month in Greece. In that event, he averaged 6.1 points and 4.7 assists per game in nine contests as Poland placed ninth in the 20-team field.
Gurley is a 6-foot-2, 185-pound guard who averaged 16.6 points, 7.6 assists and 6.5 rebounds per game for Westinghouse Career and Technical High School in Brooklyn, N.Y. The leading scorer for the Warriors last season, Gurley led the Brooklyn AA in assists per game average and he closed out the year ranked fifth in the league in scoring average. For his efforts, he was named to the All-Brooklyn AA Second Team by the Brooklyn Daily Eagle.
Baron also announced that Lou Dunbar will not return to the Canisius program for the 2014-15 season.
The 2014-15 Canisius team will return one starter and five letterwinners from last year's squad that went 21-13 overall and 14-6 in MAAC play before earning a berth into the 2014CollegeInsider.com Postseason Tournament, the program's second-straight national postseason appearance. The Griffs will open the 2014-15 season Saturday, Nov. 15, when the team plays host to Vermont in the Koessler Athletic Center.