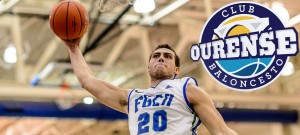 Courtesy of FGCUAthletics.com
DUNK CITY, Fla. – Recently-graduated FGCU men's basketball standout Chase Fieler has signed a professional contract with Spain's Club Ourense Baloncesto of the Liga Espanola de Balconcesto (LEB).
Fieler, who wrapped up his career as the only player in program history with at least 1,000 points and 600 rebounds, will report to the team next weekend. Ourense – which finished 8-18 last year in the Gold division – is in Spain's second division, but the top two teams in the league each year are promoted to the first league (Liga ACB).
"I'm really excited about this opportunity and I'd like to thank my agent (David Saltzman of Pro Partner Sports), the Ourense coaches, my family and of course my coaches and teammates at FGCU," Fieler said. "The best four years of my life were spent at FGCU, and I'm grateful for everyone who has supported me and afforded me this great opportunity to continue playing the game I love as I professional."
The West Virginia native finished his career with 1,306 points (third all-time), 714 rebounds (125 ahead of second place), 134 blocks (first all-time) and 487 field goals (first all-time) in a program-record 134 games and 117 starts. The 6-8 forward was a two-time Atlantic Sun Conference Second Team selection and two-time A-Sun All-Tournament Team pick.
As a senior in 2013-14, Fieler averaged 13.9 points and 7.4 rebounds per game en route to leading the Eagles to a 22-13 record and a first-ever league title as part of a program-best 14-4 league mark. His scoring average was 11th-best in the A-Sun, but he led FGCU in rebounding, and his 7.8 rebound average in conference tilts was second in the league. In FGCU's home opener at 7 a.m. on Nov. 12 against Hartford, Fieler scored a career and then-Division-I program record 30 points in front of a national TV audience on ESPN2.
"It's well deserved, and I'm extremely happy and pleased for Chase that he has the opportunity to play professionally," FGCU head coach Joe Dooley said. "He was a consummate leader for our program as a senior, and as good as a basketball player he is, he's an even better person. He did everything we asked of him on and off the court, and he'll be a great addition for his new team."
Fieler led the Green and Blue to the NIT for the first time in program history as FGCU's 22 wins marked the second-straight 20-win season and were the second-most in the Division-I era. Arguably the face of Dunk City, Fieler's high-flying alley-oop slams during FGCU's run to the Sweet 16 in 2013 captivated the nation as the Eagles became the first 15 seed to ever win two games in the tournament. For his career, Fieler finished with 98 dunks – 83 of which came in his final two seasons.
A multi-faceted player and matchup nightmare for defenders, Fieler capped his career with a 50-percent field-goal percentage (487-971), but also connected on nearly a third of his 3-point attempts as he made 103 over his four years in Southwest Florida. Fieler increased his rebound average every single year, from 3.8 as a freshman to 4.4 as a sophomore and 5.4 as a junior. Fieler started the final 97 games of his career, and just like his rebound average, he increased his scoring average each year, from 5.2 as a freshman to 6.8 as a sophomore and 12.1 as a junior.
Fieler's professional signing marks the second consecutive year that FGCU has produced a professional men's basketball player. Last July Sherwood Brown signed a contract with an Israeli team before eventually concluding the season with the Maine Red Claws in the NBA Development League.
Ourense is located in northwest Spain, near the Portugal border. Fieler's first game will be in early October, and while his new club struggled a little last year it won the Silver division regular season in 2012, prompting its promotion to the Gold division.
2014-15 FGCU men's basketball season tickets are nearly completely sold out already. Fans can reserve what limited seats remain by visiting the Alico Arena Ticket Office, calling 239-590-7145 or logging on to FGCUAthletics.com/Tickets.
For up-to-the-minute information and behind-the-scenes access to the men's basketball program, follow @FGCU_MBB on Twitter and Instagram, and "Like" us on Facebook at /FGCUMBB.