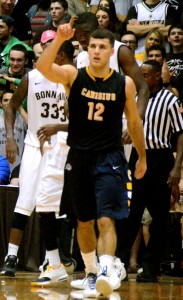 Courtesy of GoGriffs.com
Canisius guard Billy Baron put on his white Canisius home uniform for one last time on Thursday night as he took part in the Quicken Loans 3-Point contest at the State Farm Slam Dunk and 3-Point Championship event in Moody Coliseum on the campus of SMU in Dallas.
Baron was in the first pairing to shoot as the event went live to a national TV audience on ESPN, and he scored 13 points. And while the 2014 Pepsi MAAC Player of the Year failed to reach the semifinal round, he said it was a thrill to be a part of one of college basketball's top annual events.
"It is so much tougher than it seems," Baron said after the evening wrapped up. "It was weird to be honest, I wasn't nervous, but it was tough to get into a rhythm. I was going on a pure adrenaline rush. It was a great time with a great bunch of guys. I'm honored to have been a part of this wearing my Canisius uniform and representing the College and the MAAC."
Baron made a school-record 107 3-pointers in his senior season, and his 3.1 makes from 3-point land per game led the conference and ranks 12th in the nation. He closed out his 68-game career as a Griff ranked fourth all-time in career 3-pointers made with 173.