Courtesy of GoGriffs.com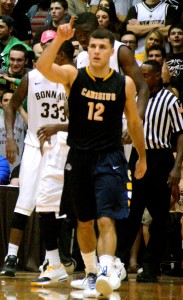 Canisius guard Billy Baron, the 2014 Pepsi MAAC Player of the Year, finished his senior season in a Golden Griffin uniform by averaging 24.1 points, 5.3 assists and 4.9 rebounds per game. He scored a team-high 821 points, making him just the second player in school history to score more than 800 points in a single season, and his 180 assists in 2013-14 make him just the third player in program history to dish out 150-plus assists in back-to-back years. He scored in double figures 33 times, he had 20-plus points 26 times and he was good for 30 or more points in a game nine times in 2013-14, highlighted by his career-high 40 points in a win at Siena Feb. 16. A two-time All-MAAC First Team honoree, Baron set Canisius' single-season record with 107 makes from 3-point land, and he closed out his two-year career on Main Street ranked 11th in school history with 1,405 career points and he's ninth all-time in program history with his 351 career assists. He is just the fourth player in school history to score more than 1,400 points and dish out more than 350 career assists, and his career scoring average of 20.7 points per game ranks fourth all-time as well.
Baron is the only player from the Metro Atlantic Athletic Conference to be named an All-American this season. He joins former Griffs Johnny McCarthy (1955-56), Larry Fogle (1973-74) and Hall as the only Canisius players to garner All-America accolades.