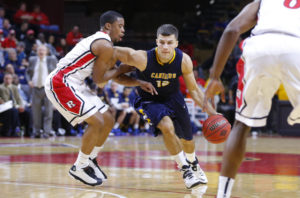 Courtesy of GoGriffs.com
Canisius senior guard Billy Baron has been named to the 2013-14 All-MAAC First-Team, the Metro Atlantic Athletic Conference announced today. Baron is an unanimous selection to the first team, as voted on by the league's 11 head coaches. This marks the second-straight year he's been named to the All-MAAC First Team, making him just the third player in program history to earn first-team all-conference honors in back-to-back seasons.
Baron finished the regular season by averaging 24.4 points, 5.2 assists and 5.0 rebounds per game for the Golden Griffins, which earned the No. 4 seed in next weekend's MAAC Championship with a 20-11 overall record and a 14-6 mark in conference action. Baron, who ranks third nationally in scoring average, is just the second player in school history to score more than 700 total points in a season, and he is the program's single-season record holder for 3-point field goals, as he has knocked down 98 shots from behind the arc this season. His 161 total assists makes him the third player in school history to have 150-plus assists in back-to-back seasons, and his 5.2 assists per game average ranks second in the conference.
Joining Baron on the All-MAAC First Team is Sean Armand and A.J. English from Iona, Manhattan guard George Beamon and Quinnipiac forward Ike Azotam. These five players are now eligible to be named the 2013-14 Pepsi MAAC Player of the Year, which is also voted on by the league's head coaches. The Pepsi MAAC Player of the Year will be announced at the MAAC Postseason Awards Show on Friday, March 7 at the Naismith Memorial Basketball Hall of Fame.
The men's basketball team will play No. 5 seed Siena on Saturday, March 8 in the MAAC Championship quarterfinal round at MassMutual Center in Springfield, Mass., with tipoff is set for 2:30 p.m. The game will be broadcast live on ESPN3 and the audio call can be heard on AM-1400 in Buffalo and through the Golden Griffin Broadcast Network at GoGriffs.com.