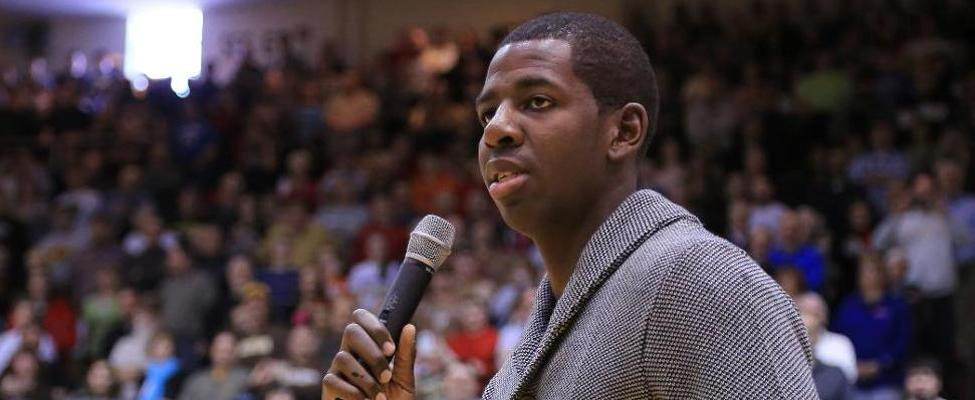 Courtesy of GoBonnies.com
ST. BONAVENTURE, N.Y. – Appropriately, number 44 is now forever retired at St. Bonaventure.
Prior to the start of Saturday's men's basketball game against Rhode Island at the Reilly Center, the University retired the number worn by Andrew Nicholson, class of 2012. It is the ninth number retired in the program's history.
Now a member of the NBA's Orlando Magic, Nicholson and his family watched as the banner bearing his number was slowly lowered from the rafters.
"This means so much to me," Nicholson said as he addressed the crowd during the ceremony. "I'm so glad I came here and helped to bring the program back. You all (fans) were with me the whole way and I am really thankful for all your support right to this day. Thank you."
Nicholson, a 6-foot-9 forward, is the second-leading scorer in St. Bonaventure history with 2,103 points. As a senior in 2011-12, he led the Bonnies to their first Atlantic 10 Conference tournament title and a berth in the NCAA Tournament. Nicholson averaged 18.5 points and 8.4 rebounds per game that year and was selected the A-10 Player of the Year as the Bonnies finished 20-12.  It was their first 20-win season and first NCAA Tournament appearance since 2000.
In the 2012 NBA Draft, he was chosen by Orlando with the 19th pick in the first round.
Nicholson also stands fourth in the St. Bonaventure record book in rebounds (887), second in blocked shots (244) and second in career field goal percentage (.575).  He was named the A-10 Rookie of the Year in 2008-09, and was selected to the second team All-Conference as a sophomore and first team All-Conference in both his junior and senior seasons.