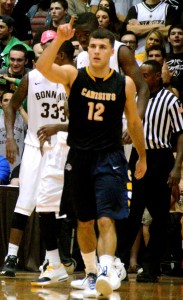 Courtesy of GoGriffs.com
ESPN and the Metro Atlantic Athletic Conference office announced today that the Canisius-Rider game on Friday, Feb. 28, has been moved to ESPNU as part of the MAAC's television package. Game time in Rider's Alumni Gymnasium is set for 9 p.m.
The national TV game on ESPNU for the Golden Griffins will be their fifth of the season. The Griffs have already played games on ESPNU at Notre Dame, at Iona and at home against Manhattan. The Blue and Gold will be on ESPNU this Friday, Feb. 14, when the team takes on long-time rival Niagara at 9 p.m., as part of ESPN's "Rivalry Week".
The five national TV games in one season is a new record for the program. Canisius is also scheduled to appear on ESPN3 on the final weekend of the regular-season when the team plays at Manhattan Sunday, March 2. That game will tipoff at 4:30 p.m.
Canisius is currently tied for second in the MAAC standings with a 10-4 mark in league games. The Griffs are 16-9 overall after dropping a pair of home dates to Manhattan and Iona. The game at Niagara on Feb. 14, will be the 174th all-time meeting between the two Western New York rivals. Canisius defeated Niagara 87-74 on Jan. 22, when the two schools faced off in the Koessler Athletic Center.