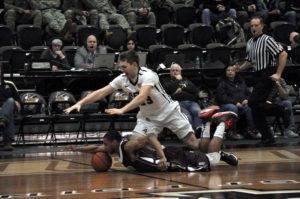 Courtesy of goARMYsports.com
WEST POINT, N.Y.  – The Army (12-10, 8-3 PL) defense held Lehigh (12-12, 5-6 PL) to 35.8 percent from the field, and Tanner Plomb scored a game-high 27 points to lead the Black Knights to a 70-51 victory in Patriot League men's basketball action at Christl Arena Wednesday night. Army swept the season series from the Mountain Hawks for the first time since 2001-02.
The Mountain Hawks led 4-3, but Army used a 22-4 run to open up a 17-point lead with 7:20 left in the first half. Lehigh trimmed the deficit to 10 points, but the Black Knights were able to re-establish a 17-point margin at the break. Lehigh quickly cut the lead back to 10 in the opening minutes of the second half and got as close as eight points, but could not come any closer. Army led 60-51 with 3:33 to go when Plomb buried his fifth three-pointer of the night to start a 10-0 game-ending run. The Black Knights held the Mountain Hawks without a field goal during the final 4:08.
The Black Knights' 51 points allowed marked the best defensive effort of the season against a Division I opponent.
Plomb was the only Army player in double figures. The Mukwonago, Wis., native was 9-for-11 from the field, including 5-for-6 from three-point range. He also knocked down four of his five free throw attempts. Kevin Ferguson scored nine points, snared a game-high nine rebounds, handed out a team-high four assists and tied his own Academy record set just two games ago with six blocked shots.
Mackey McKnight led the Mountain Hawks with 16 points on 7-of-11 shooting and dished out five assists. Tim Kempton added 12 points and eight rebounds.
Army outscored Lehigh in the second half despite shooting just 36.4 percent. The Black Knights hit 43.3 percent of their shots for the game, and were aided by a 42-32 rebounding edge. Army scored 40 of its 70 points in the paint.
Plomb started the game with a three-pointer but the Mountain Hawks scored the next two baskets to take a 4-3 lead with 15:30 to go. Another three by Plomb put Army back on top and ignited the 18-point run that made it 25-8. Kyle Wilson capped the spurt with a layup with 7:20 remaining. A quick 7-0 run by Lehigh made it a 10-point game, but the Black Knights scored seven of the next nine to re-establish a 15-point margin. Lehigh cut it to 13, but Army scored the final four points of the half. The last basket came when Tanner Omlid deflected a pass and found a streaking Larry Toomey for a two-handed dunk with less than three seconds left in the half.
It took the Mountain Hawks just four minutes, 36 seconds to cut the Black Knights' lead to eight points at 41-33 with15:24 to go in the contest. Wilson found a cutting Omlid to re-establish a double-digit lead, but Lehigh was able to get within nine on two occasions. Plomb buried a three-pointer with 11:31 to go put Army on top 50-38 and start an 11-2 run that ran the Black Knights' margin to 18 points with 6:41 to go.
Lehigh had one more push, scoring 11 of the next 13 to make it a 60-51 game with 3:33 left. Plomb hit one of the biggest shots of the game, connecting on a three-pointer from the right wing to give Army a 12-point lead and start the final 10-0 spurt.
The victory tied the program record for conference wins in a season. The 1986-87 team went 8-6 in Metro Atlantic Athletic Conference play, and last season's team was 8-6 in the Patriot League.
The win also kept Army in sole possession of third place, one game ahead of Holy Cross. American suffered its first loss of the season on Wednesday, but remains in first with a 10-1 mark. Boston University is next at 9-2.
Army welcomes arch-rival Navy on Saturday for the annual Star Game. Tip-off is scheduled for 4 p.m. and will be broadcast to a national audience by CBS Sports Network. The Black Knights won the first meeting in Annapolis, 60-55, on Jan. 11.
Game Notes: Dylan Cox made his team-leading 53rd consecutive start … Tanner Plomb was two points off his career high of 29 set against Holy Cross on Jan. 15 … Army matched its program record at five games over .500 in league play … Army is 16-9 in Patriot League play over the last two seasons … Army's 17-point halftime lead was its largest since a 41-24 edge against St. Francis Brooklyn on Dec. 7 … Kevin Ferguson has blocked 17 shots in the last three games … he extended his single-season record to 52, making him the first Black Knight to block 50 in a season … Ferguson pushed his Army career record to 87 … Zach Spiker improved his win total to 65 games … Spiker, Bob Knight and Mike Krzyzewski are the only three coaches to win at least 65 games in their first five seasons at West Point … Spiker won his program-record 28th Patriot League game … Army has made 170 three-pointers this season, tied for seventh-best all-time.