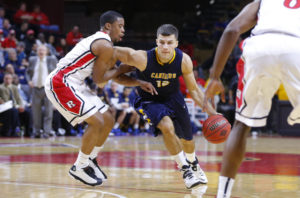 Courtesy of GoGriffs.com
Last week in wins over Niagara and Marist, Canisius senior guard Billy Baron became the first Golden Griffin in 29 seasons to score 30-plus points in back-to-back games. On Monday, Baron was named the Lute Olson Award National Player of the Week by CollegeInsider.com and the MAAC Player of the Week. This marks the third time this season he's been honored with a weekly honor by the conference office.
The East Greenwich, R.I. native averaged 34.5 points, 3.5 rebounds, 2.5 assists and 2.5 steals per game last week as the Griffs improved to 14-7 overall and 8-2 in MAAC play with a pair of victories. In the win over Marist Jan. 26, Baron matched his career-high with 38 points, 25 of which came in the game's first 20 minutes. He ended that game by going 12-for-23 from the field, 5-for-11 from 3-point land and 9-for-10 from the free-throw line. The 12 makes from the floor and 23 shot attempts were both career highs for the East Greenwich, R.I. native, and his five makes from behind the 3-point arc matched his career single-game high.
In Canisius' 87-74 win over Niagara Jan. 22, Baron poured in a game-high 31 points despite having to leave the floor to receive stitches over his left eye following a collision with a Niagara player. For the week, he shot 55 percent from the field (22-for-40), 47.4 percent from 3-point land (9-for-19) and 88.9 percent (16-for-18) from the charity stripe. He also posted an assist-to-turnover ratio of 1.7.
Baron ranks second in the MAAC and third in the nation in points per game with 24.2 points per contest. In the team's last five games, where Canisius is 4-1, Baron is averaging 29 points, 5.0 rebounds and 5.0 assists while shooting 56.3 percent from the field and 54.5 percent from 3-point land. As of Monday's NCAA stats release, he ranks in the top-15 nationally in nine different statistical categories. He has scored 30 or more points five times this season and he's posted double figures in the scoring column in 20 of the team's 21 games to date. He leads the MAAC and ranks 12th in the nation in 3-point field goals made per game with 3.3, and his 71 3-pointers through 21 games rank fourth on the school's single-season 3-point field goal list.
The Lute Olson Award is presented annually to the nation's top Division I player who has played at least two seasons with his respective team. Freshmen and first-year transfers can be named to the All-America team but are not eligible to receive the Player of the Year honors.
The award is named in honor of coaching great Lute Olson, who won 780 games in 34 seasons, 24 of which were spent at the University of Arizona. During that stretch he led the Wildcats to 11 Pac-10 Conference titles, 23-consecutive NCAA Tournaments, four Final Four appearances and a National Championship in 1997.
Canisius returns to action Thursday, Jan. 30, when the team plays at Quinnipiac. Game time is set for 7:30 p.m., and the game will be broadcast live on SNY.