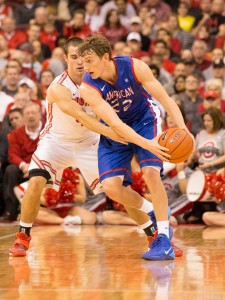 Courtesy of goARMYsports.com
WEST POINT, N.Y.  – American (12-7, 8-0 PL) made 10 of its 20 three-point tries and shot 54.9 percent for the game to score an 84-74 win over Army (10-9, 6-2 PL) in Patriot League men's basketball action Saturday afternoon at Christl Arena . Kyle Wilson led all players with 27 points, including four three-pointers, to lead the Black Knights.
The first half featured two ties and seven lead changes, and Army overcame a two-point halftime deficit to take a 35-34 lead with 17:28 left, but the Eagles ran off a 12-4 run to claim the lead for good. The Black Knights were able to close within two points at 50-48 and trailed by just three with 8:04 to go, but American scored 14 of the next 22 points to take a 71-62 lead with 2:48 left. The Eagles stretched their lead to as many as 12 in the closing minute.
Wilson was 7-for-15 for the game, including 4-for-6 from three-point range. The rest of the team combined to make only one of 15 three-point tries. Tanner Plomb added 12 points and grabbed team-high seven rebounds, while Dylan Cox reached double figures for the second straight game with 11 points.
Kevin Ferguson blocked one shot to break his own Academy season record. The Berkeley Heights, N.J., native now has 36 blocks through 19 games, one more than his 31-game total from last season. Ferguson is now just four shy of breaking the Army career record.
Army shot 41.4 percent for the game overall, but could not overcome a 10-for-28 first half that included just one three-pointer in nine tries.
The Eagles had four players in double figures led by John Schoof's 22 points. Schoof was 4-for-8 from deep. Jeese Reed scored 20 points, also making four three-pointers, and just missed a double-double with nine rebounds. Tony Wroblicky scored 19, while Darius Gardner added 14 and six assists.
The Black Knights held a 34-31 rebounding edge, marking the first loss this season when outrebounding their opponent.
The loss snapped Army's three-game winning streak versus the Eagles.
Army jumped out to a 6-0 lead, holding the Eagles scoreless for the first four minutes, 21 seconds of the game. The Eagles broke an 0-for-4 start when Schoof buried his first three-pointer to cut Army's lead in half. The basket started an 8-1 run that gave American its first lead of the game.
The lead changed hands twice more before a 9-4 spurt by the Eagles made it 17-13 with 11:15 left. Army fought back to regain a 20-19 advantage following a jumper by Matt Gramling, but Reed hit a three-pointer to American back on top by two. Army held one more lead in the first half, 23-22, after two free throws by Wilson with 5:31 left, but American rattled off a 10-2 run to claim a 32-25 edge with 2:40 on the first-half clock. A jumper by Plomb and a three-pointer by Wilson, Army's first of the game, sent the Black Knights into the locker room down 32-30.
American stretched their lead to four in the opening moments of the second half, but a 5-0 run that included a three-point play by Cox and a basket by Kevin Ferguson gave Army a 35-34 lead with 17:28 left. Kyle Kager answered with a three-pointer that started the Eagles' run that put them on top for good.
The loss dropped Army to third place in the Patriot League standings. The Eagles are the lone unbeaten at 8-0, while Boston University is 7-1. The Black Knights travel to BU on Wednesday night. Tip-off is set for 7 p.m.
Game Notes: Dylan Cox made his team-leading 50th consecutive start … Tanner Omlid had another strong all-around game with seven points, five rebounds, two steals and a blocked shot … the teams were whistled for 44 fouls … Army was 21-for-28 from the line, while American was 18-for-21 … Army dropped to 2-5 this season when allowing 80-or-more points … Dylan Cox did not commit a turnover, his third turnover-free game in the last four outings … Wednesday's game at BU will be the first time the two teams have met as Patriot League opponents.